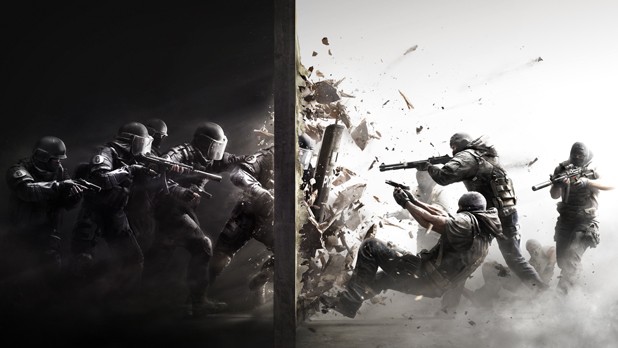 Ubisoft Montreal's upcoming FPS title "Rainbow Six Siege" has revealed new details, after the game was presented at the recently concluded E3 2014 in Los Angeles.
Siege continues Tom Clancy's Rainbow Six series charting into counter-terrorist fantasy with more tension and realism, not seen in its predecessors.
Andrew Witts, game designer, explains that the game has three pillars on which it stands - tactics, team play and tension. It will have both single-player and multiplayer modes, where players will play in a team of counter-terrorist units.
Players will be able to control their units and it can involve both attack and defense roles. There will be a new asymmetrical gameplay in the game, he stated on the official blog.
"We wanted to stay true to the pillars of Rainbow, which are: tactics, team play and tension. Rainbow Six has always offered players the experience of playing in a team of counter-terrorist units (CTU) in both single and multiplayer. We're staying true to the Rainbow Six DNA of letting players control their very own CTU in a real-life situation, but in the roles of both attack and defense. This is the backbone of the new asymmetrical gameplay in Rainbow Six Siege," Witts said in an official post.
Realistic Destruction
Rainbow Six Siege will have realistic destruction due to a new technology from Ubisoft Montreal – Realblast.
Witts further explains that at the heart of gameplay experience is Destruction which brings new tactical advantages to the series. Attackers will have the help of drones while the defenders must take the help of traps to thwart the attackers.
Players also need to note that different weapons will have different outcome in the game, and players will be able to blast holes in walls or set up breach charges taking the defenders by surprise.
Fortification
The game will have fortification for the team of defenders. Some of the fortification tools like -
Wall reinforcements – prevents from full destruction when attackers keep their breach charges.
Barricades on doorframe and windows – Stops attackers from going in easily since it will make noise and obscures the line of sight.
Barbed wire - This is another tool of fortification that will slow down the attackers and creates noise.
But when it comes to the attackers, they will have their own tools like a drone that will comes with a camera and will scout the place for them.
Attackers will get gadgets like breach charges, frag grenade, flash grenade to breach the fortifications and defenders will get nitro cell (C4) and deployable shield.
Hostage Rescue
This multiplayer mode has fast-paced action, 5v5 player asymmetrical close-quarters combat in indoor environments and where every round has 3-4 minutes and a player will have only one life. This mode is likened to tug-of-war.
Players on both the factions - defenders and attackers will have to prepare their plan of action – known as the preparatory phase. The defenders will have to think how and where to set up fortifications and traps. The attacking team will have to scout for enemy locations, track down hostages and vote on their plan of attack.
The game requires players to team up with others. Lone wolves will not be able to progress much in this mode. The game will have "advanced hostage AIs," with an ability to have a character on its own.
The death of a hostage in this mode is serious since any team that kills the hostage will lose the round. But hostages can be revived if they enter a downed state.
Rainbow Six Patriots Cancelled
Anne Lewis, communications specialist at Ubisoft, explained that one of the games shown at E3 2013, "Rainbow Six Patriots" was not "cut out" for new-generation consoles and hence the company had to "reboot" it with a new team now working on it. She later said that the project was cancelled as the "siege and destruction technology" was incompatible with the "direction" Patriots was going.
Release Date
The last Rainbow Six game was "Tom Clancy's Rainbow Six: Shadow Vanguard" that was released in 2011. The game is powered by Anvil-Next engine and Realblast Destruction technology. Rainbow Six Siege is expected to be released in 2015 for PC, Xbox One and PlayStation 4.
(YouTube courtesy: Ubisoft)