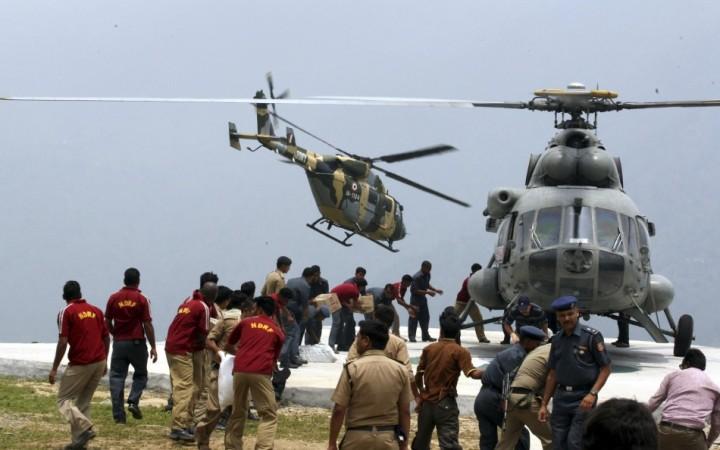 A cyclonic storm that turned into a deep depression over the Bay of Bengal caused flood situation in coastal districts of Andhra Pradesh and Odisha. Nearly 40 people have lost their lives and more than 72,000 have been evacuated from low-lying areas in the states.
The Indian Meteorological Department has forecast incessant rains for the next 48 hours in Andhra Pradesh. Twenty-nine people have lost their lives in the rain and flood-battered state since past four days.
Maximum deaths were reported from Prakasam district (6 people), followed by Guntur (5), Mahabubnagar (4), Hyderabad, Kurnool (3 each), Vizianagaram, East Godavari, Nalgonda and Warangal (2 each).
Damage to crops rose on the fifth day for over 5.64 lakh hectares of agricultural land was submerged and 6,597 houses had been inundated due to heavy rains in the region.
Life in capital city of Hyderabad came to a standstill as vast stretches of Vijayawada-Hyderabad Highway were submerged in floodwaters.
In the neighbouring state of Odisha, floods claimed lives of 10 people with Ganjam district being the worst affected. In Ganjam, 17 Out of 22 blocks, including Aska, Polsara, Chikiti, Purusottampur, Rangeilunda and Shergad were among the worst affected.
Officials told NDTV that the district has received thrice as much rain as during Cyclone Phailin in the past few days.
Rescue Operations
The Congress-led government in Andhra Pradesh has set up 178 relief camps in nine districts. About a dozen teams of National Disaster Response Force (NDRF) have been carrying out rescue operations in Srikakulam, Nalgonda, Guntur, West Godavari, Prakasam and Mahbubnagar, PTI reported.
In Odisha, even after rescuing nearly 85,000 people, over 50,000 people remained cut off. Three Air Force helicopters have been dropping food items within 30 miles of Gopalpur.