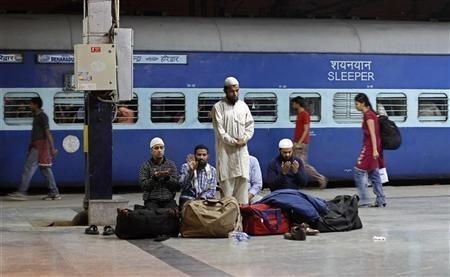 Railway ticket booking is soon going to be hassle-free as the Indian Railways is introducing a new service wherein customers can book train tickets by just sending an SMS.
Keeping an eye on the expanding mobile market in India, the Indian Railway Catering and Tourism Corporation (IRCTC) has come up with a service to allow customers book train tickets on their mobile phones and the dedicated number will be made available soon.
No print out of the ticket will be required as the ticketing message in the mobile phone will substitute the ticket and will be valid throughout the journey.
"IRCTCmobile is a unique secure transaction solution residing on your mobile phone, which allows you to book railway tickets from anywhere and anytime. The IRCTCmobile has an attractive and user-friendly interface to facilitate easy navigation and has capacity to book tickets in real time and store ticket details, making it an ideal ticketing solution," according to IRCTC.
How to Book Train Ticket by SMS
For enabling the SMS-ticketing service, users need to register their mobile number by entering their mobile number on the IRCTC website and also register on the users' bank. The bank will then provide a Mobile Money Identifier (MMID) and a One Time Password (OTP) for sanctioning the payment. The users need to have a Java enabled mobile phone or smartphone, active GPRS service and a credit/cash card.
Once the users complete registration, they can download and install IRCTCmobile on their Java-enabled mobile phone and start booking railway tickets by using credit/cash card.
The service will be accessible by all mobile subscribers at ₹3 per SMS and some payment gateway charges which will be around ₹5 for ticket amounting less than ₹5000 and ₹10 for ticket above ₹5000.
For booking ticket via SMS, the users need to type the train number, destination, journey date, class and other passenger details like name, age and gender in the message box after which they will receive the transaction ID. They will have to make the payment via another SMS by typing PAY, the transaction ID and MMID given by the bank, followed by the password before the ticket gets reserved.