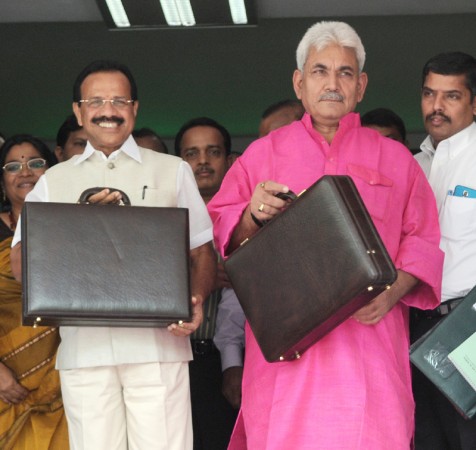 Andhra Pradesh and Telangana are hoping for several new railway lines, introduction of new trains between densely populated cities like Hyderabad and Tirupati, completion of several pending rail projects and new railway zones from the Union Railway Budget to be announced by the Union Railway Minister DV Sadananda Gowda on Tuesday, 8 July.
Union Urban Development Minister M Venkaiah Naidu recently urged Gowda to introduce several new trains from Andhra Pradesh and Telangana to Delhi and other far off places in the country. There has been a long pending demand of introducing two express trains to Delhi from Visakhapatnam and Vijayawada.
Naidu has also urged Gowda to introduce trains between Vijayawada and Bangalore and Balaji Express between Delhi and Tirupati to meet the daily demand of devotees visiting the Tirumala deity from North India.
Currently Andhra Pradesh Express runs from Secunderabad to Delhi. There is a possibility of changing the name of the express train into Telangana Express. Naidu has also demanded the Centre to introduce another AP express train between Vijayawada and Delhi.
Additionally, Andhra Pradesh has been demanding for a new railway zone for Vijayawada and Visakhapatnam. Due to the huge demand for more connectivity between Hyderabad and Tirupati, Visakhapatnam, Shirdi, Bengaluru as well as Jammu (via Delhi), introduction of more trains on these routes is needed, Deccan Chronicle reported.
In both Telangana and Andhra Pradesh, there are many incomplete railway line projects, which are waiting for funds from the Centre. There is about 1,200km rail line sanctioned in Telangana and nearly 1,600km line sanctioned in Andhra Pradesh region, which are said to be pending for the last 10 years. Double lining and electrification projects with an estimated cost of ₹295 crore are pending in Telangana.
In Andhra Pradesh, a total of 1,297km new line projects are in pending, which were sanctioned at a cost of ₹8,860 crore and line doubling projects sanctioned at a cost of ₹1,504 crore are pending.
Following are the pending railway line projects with the sanctioned year in bracket:
Telangana: Mellacheruvu-Janpahad (2006-07), Peddapalli-Karimnagar-Nizambad (1993-94), Munirabad-Mahboonagar-Deverakadra-Krishna (1997-98), Manoharabad-Kottapalli (2006-07), Bhadrachalam Road-Sattupalli (2011-12), Akkanapet-Medak (2012-13), Kondapalli-Kothagudem (2013-14), Manuguru-Ramagundam (2013-14)
Andhra Pradesh: Nandyal-Yerraguntla (1996-97), Kadapa-Bangarpet (2008-09), Kotipalli-Narsapur (2000-01), Macherla-Nalgonda (1997-98), Kakinada-Pithapuram (1999-2000), Guduru-Durgarajapatnam (2011-12), Bhadrachalam Road-Kovvur (2012-13), Obulavaripalli-Krishnapatnam/RVNL (2005-06) and Cumbum-Proddatur (2013-14).
Meanwhile, Gowda has said that he will constitute a team of experts, comprising of former Managing Director of Delhi Metro Rail Corporation E Sreedharan, to guide him in running Indian Railways. Sreedharan has become "Metro Man" of India for his services.
Gowda also said that his priority is introducing a commuter train service for Bangalore city and modernizing Bangalore railway stations.