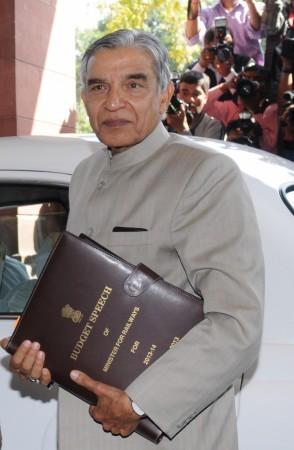 Opinions on Railway Minister Pawan Kumar Bansal's Railway Budget 2013 may differ from person to person, but on a closer look, he has presented a good budget considering the current financial situation of the Indian Railways and the forthcoming elections next year.
In fact, Bansal has taken a few praiseworthy steps towards narrowing down the deficit gap in the struggling Indian Railways without disappointing the common man and at the same time appeasing the industrial sector.
Many may questioned if Bansal's Railway Budget 2013 was too financial discipline and avoided taking bold steps, including hiking passenger fare, keeping in mind next year's elections and not to disappoint the public who were irked by rail fare hike last month. He is also been criticized for introducing lesser new rail lines compared to previous years.
But on a closer look, Bansal has cleverly hiked the passenger fares, though indirectly, and would do so in the future though he abstained from increasing the figure in his budget. The public will indirectly pay more through ticket cancellation, clerkage and tatkal charges. Supplementary charges for super fast trains have also been marginally raised. The cost of travelling on train too may go up as the railway minister hinted a possible annual hike of 5 percent for various kinds of services.
The public may also have to pay more in the future depending on the flatuating fuel price as the government is implementing Fuel Adjustment Component (FAC) linked revision for freight tariff from 1st April 2013. The railway minister said that the move could increase the cost of commodities by 4-8 paise per kg but additional revenue to the Railways will be around ₹4,200 crore.
Bansal's Railway Budget has many positive things that his predecesors didn't think of. The announcement that a loan of ₹3,000 cr taken in 2011-12 has been fully repaid along with interest should come as a welcomed move. He also promised that the Railways will make profit by the end of the financial year.
He announced the Indian Railways will set up an exclusive Centralized Training Institute at Secunderabad - Indian Railways Institute of Financial Management (IRIFM), indicating his long-term plan for the Railways.
Bansal's Railway Budget will also please investors, as much modernization projects of the railways will be done through Public-Private Partnership (PPP) route. Target of ₹1000 crore each fixed for Rail Land Development Authority and IR Station Development Corporation to be raised through PPP in 2013-14. Of the planned investment of Rs 63,363 crore for the financial year, ₹6000 crore will be under PPP mode.
Many may not be happy for not introducing many new rail lines as expected but several measures announced in the budget like - safety, cleanliness and hygiene, special provision for women passengers and differently abled persons, introduction of Train Protection Warning System on Automatic Signalling Systems, elimination of 10797 level crossings to curb accidents, introduction of Self Propelled Accident Relief Trains, introduction of next-gen e-ticketing system that can handle 7200 tickets per minute as against the present 2000, and several others are necessary and will help the Railways in the long run.
Bansal's Railway Budget 2013 should be considered as a clever one.