Railway Budget 2013 Live Blog
01:50 pm: The Railway Budget has evoked a strong reaction from several political parties which are under the impression that their constituencies are overlooked. BJP went to the extent of calling Bansal's Railway Budget as 'Rae Bareli' budget.
Railway Minister Fails to Present Bold Budget
Pawan Kumar Bansal was expected to present a bold budget on Tuesday considering the deep financial crisis the Railways is facing, but nothing big was announced. Still, he chose to keep the common man happy by not hiking passenger fares, in spite of the recent diesel price hike.
Meanwhile, Bansal proposed a hike in Tatkal reservation charges and supplementary charges for superfast trains. Railways will also absorb ₹850 crore on account of the unchanged fares.
01:40 pm: Prime Minister Manmohan Singh applauds Bansal, describing his Railway Budget as "forward looking Budget".
"It is a reformist and forward looking Budget which presents a realistic picture of Railway finances. I compliment the minister for his innovations in critical areas of Railway Infrastructure and paving the way for capacity expansion."
"The Railway Minister has done a commendable job in meeting competing demands of improving services and controlling expenditure," he added.
01: 17 pm: Indian Railways sees 2014 investment at ₹63360 crore. It plans to launch 26 new passenger trains and 67 new express trains.
01:10 pm: No hike in passenger fares. However, Bansal proposes a hike in Tatkal reservation charges and supplementary charges for superfast trains. Railways will also absorb ₹850 crore on account of no fare hike
1: 02 pm: Bansal said that his ministry is planning to fill up 1.52 lakh vacancies in the Railways and provide 10% reservation in Railway protection force for women.
12: 57 pm: Planned Expenditure: ₹300 crore for staff quarters and ₹9,000 crore to connect mines. It also targets ₹4,000 crore for Railway production units in 2014.
12:50 pm: Bansal said Railways is planning 1500 km freight corridor and planning a railway line for Manipur. Railways is also planning to set up a centralised training institute at Secunderabad.
12: 45 pm: Railways is working to make coaches and stations friendly for differently-abled people. It is also setting up a fast and reliable disaster management system.
12: 40 pm: Bansal said the Aadhar scheme will be used in Railways to book tickets. He said the project will not just help in booking tickets but also provide a better interface for pensions and other financial transactions for employees.
12:30 pm: Pawan Kumar Bansal proposes safer and improved facilities, including free wifi on some trains.
12:25 pm: Following the recent Kumbh tragedy, railways assure to take full care of pilgrims.
12: 20 pm: Planning commisition estimates railways' 12th plan at ₹5.19 lakh crore.
12:15 pm: Bansal said that operational loss is estimated at ₹24,000 crore for the financial year 2012-13.
12:10 pm: Railway Minister presents the union Rail Budget 2013-14 in Lok Sabha.
11: 47 am: Sensex down by 120 points ahead of the Railway Budget presentation.
11:40 am: Bansal promises 24X7 helpline for women ahead of his maiden Railway Budget, saying that passengers' safety is his top priority.
"The safety and security of passengers, especially women, is top priority of the Indian Railways," Bansal told IANS in an exclusive interview. "It's not possible to deploy women constables in each of the 51,000 coaches. But soon there would be round-the-clock toll-free helpline for women and this will be tracked on real-time basis."
11: 30 am: Railway Minister Pawan Kumar Bansal reached Parliament to present his first Rail Budget. He is the first Congress Minister to present the Rail Budget in the last 17 years.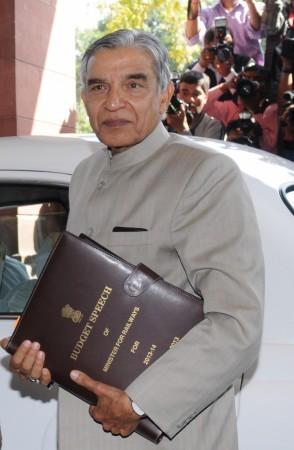 Railway Budget 2013-14
All eyes are on the Railway Budget 2013-14 to be presented by railway minister Pawan Kumar Bansal on Tuesday
Hike in the rail passenger fares could invite huge backlash from the public but it looks like it is inevitable following the increase in diesel price.
Last year, Dinesh Trivedi stepped down as the Railway Minister after hiking passenger fares across all classes ranging from two paise to 30 paise per km. His party, Trinamool Congress replaced him with Mukul Roy.
Some bold steps are expected in Pawan Kumar Bansal's Railway Budget 2013-14 on Tuesday too, as the Indian Railways is said to badly need additional revenue to reduce the molunting losses. At least freight rates are expected to be increased after the price of diesel was hiked twice since January 2013.
The railway minister had recently hinted that there could be another rail fare hike following increase in the price of diesel. He added that the Railway ministry needs fund for new lines and development of stations.
Bansal had last hiked rail fares, ranging from 2 to 10 paise per kilometer, on January 21, which is expected to earn an additional income of ₹1200 crore by March 31, 2013. The decision was taken after the Indian railways faced losses up to ₹20,000 crore during 2010-11, which may increase to ₹25,000 crore this year.
It is reported that at least 100 new trains, including AC double deckers could be introduced in the upcoming Railway Budget owing the demands of the people, and manufacturing of 4,200 new coaches is expected to be announced.
Sources said that the railway minister is likely to concentrate on providing better facilities to the passengers like cleanliness in trains and stations, special facilities for differently abled person, upgradation of fire-fighting arrangements etc.