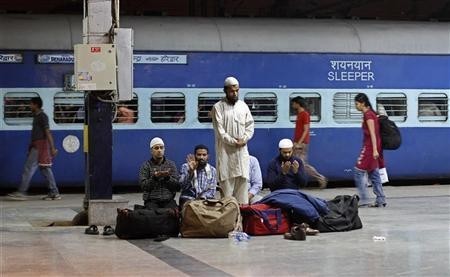 All eyes are on the Railway Budget 2013-14 to be presented by railway minister Pawan Kumar Bansal on Tuesday, as it will throw light on the Union Budget that will be presented two days later.
Hike in the rail passenger fares could invite huge backlash from the public but it looks like it is inevitable following the increase in the price of diesel.
Last year, Dinesh Trivedi stepped down as the Railway Minister after hiking passenger fares across all classes ranging from two paise to 30 paise per km. His party, Trinamool Congress replaced him with Mukul Roy.
Some bold steps are expected in Pawan Kumar Bansal's Railway Budget 2013-14 on Tuesday too, as the Indian Railways is said to badly need additional revenue to reduce the molunting losses. At least freight rates are expected to be increased after the price of diesel was hiked twice since January 2013.
The railway minister had recently hinted that there could be another rail fare hike following increase in the price of diesel. He added that the Railway ministry needs fund for new lines and development of stations.
Bansal had last hiked rail fares, ranging from 2 to 10 paise per kilometer, on January 21, which is expected to earn an additional income of ₹1200 crore by March 31, 2013. The decision was taken after the Indian railways faced losses up to ₹20,000 crore during 2010-11, which may increase to ₹25,000 crore this year.
It is reported that at least 100 new trains, including AC double deckers could be introduced in the upcoming Railway Budget owing the demands of the people, and manufacturing of 4200 new coaches is expected to be announced.
Sources said that the railway minister is likely to concentrate on providing better facilities to the passengers like cleanliness in trains and stations, special facilities for differently abled person, upgradation of fire-fighting arrangements etc.
Railway Stocks Fall Ahead of Railway Budget:
The stocks of companies related to the Indian Railways fell ahead of the Railway Budget presentation on Tuesday.
Kernex Microsystems fell 9.77 percent, Titagrh Wagons fell 5.2 percent lower, Zicom Electronic Security Systems stocks plunged by 5.28 percent and Kalindee Rail NirmanBSE -3.10 % was down 3.1 percent, reported Business Standard on Monday.