Congress vice-president Rahul Gandhi on Tuesday sought to deflect the criticism that dynastic politics in India as received by saying that that's how "things work" in the country. He also spoke about the Kashmir issue, lynching incidents and journalist deaths in the country.
Rahul, who is on a two-week visit to the US, made the remarks at an event at the University of California in Berkeley on the subject "India at 70 — Reflections on the Path Forward".
"Most of the country runs like this. That's how India works. Dynastic politics is a problem in all political parties. Akhilesh (Yadav), (MK) Stalin and even (actor) Abhishek Bachchan are dynasts. Even (Prem Kumar) Dhumal's son (Anurag Thakur) is a dynast, so don't go just after me," Rahul said at the event.
The party vice-president also admitted that a certain level of "arrogance crept into the Congress" in 2012, two years before the party lost power to the BJP at the Centre, and that they "stopped having conversations with the people." He added: "Rebuilding the party, we need to design a vision that we can use moving forward."
Rahul also said he was ready to take charge of the Congress in 2019 when the Lok Sabha elections are due. "I am absolutely ready for that," he said when he asked if he would be willing to take over the executive role.
'BJP destroyed UPA's work in Kashmir'
Rahul slammed the Modi government for destroying the "nine years of hard work" put in by the UPA government to resolve the issue of terrorism in Jammu and Kashmir. He said the "hard work" put in by the Manmohan Singh government had "broken the back of terrorism in Kashmir."
However, the NDA government destroyed their work in Kashmir within 30 days of coming to power, Rahul said.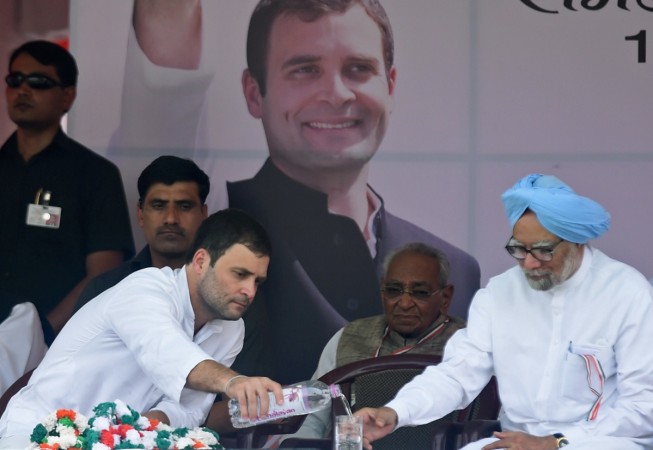 The Congress leader also said his party's government had managed to bring "peace" in Kashmir through Panchayati Raj elections, women's self-help groups and providing the youth in the state with employment opportunities and building their confidence.
"For nine years, I worked behind the scenes with PM Manmohan Singh, P Chidambaram, Jairam Ramesh and others on Jammu and Kashmir. When we started, terrorism was rampant in Kashmir but when we finished there was peace. By 2013, we basically broke the back of terror. I hugged Manmohan Singh and told him it was one of the biggest achievements," Rahul said.
He then added that it was the BJP's alliance with the People's Democratic Party (PDP) that ruined the party as well as the situation in the Valley.
"The PDP was instrumental in bringing youngsters into politics, but the day PM Modi made alliance with PDP, he destroyed them (PDP). He (Modi) massively opened up space for terrorists in Kashmir, and you saw the increase in violence," Rahul said at the event.
He added that the alliance between the BJP and the PDP in 2014 destroyed the latter's ability to bring in youth into politics, causing most of them to turn to militancy.
'If I don't understand violence, who will?'
The Congress leader also spoke about the assassinations of his father Rajiv Gandhi and grandmother Indira Gandhi, saying that no one understands violence better than him. "I lost my grandmother and father to violence. If I don't understand violence, who will?" he asked.
"Indira Gandhi's bodyguards, who shot her 32 times, were my friends. I used to play Badminton with them. So, one day, I saw my grandmother shot and my friends shot. Violence against anybody is wrong, and I condemn it," Rahul said.
When asked about the Sikh community — which was massacred by mobs allegedly led by Congress leaders after Indira's assassination — he said: "I absolutely love the community. If there's anything I can do to help them get justice... I'll be the first person to do so."
Modi a 'good communicator'
Even though Rahul slammed Narendra Modi and his government for most of his session, he did have a rare word of praise for the prime minister: He called him a "good communicator".
"Mr Modi is also my prime minister. He has certain skills; he's a very good communicator and understands how to deliver a message to three or four groups in a crowd; his messaging ability is very subtle. What I sense is that he doesn't converse with the people he works with — I've heard this from parliamentarians," Rahul said at the event.
Rahul also said that he liked the concept of "Make in India," but he would like to change the orientation of the scheme to also include "small and medium businesses and bring in experts to transform them into global companies." Referring to the Swachh Bharat Abhiyan, he said the "idea of hygiene is good."
'Politics of polarisation dangerous'
Rahul raked up the issue of demonetisation and lynchings, and journalists being shot dead. He said the "politics of polarisation is very dangerous" and the "idea of non-violence is under attack today."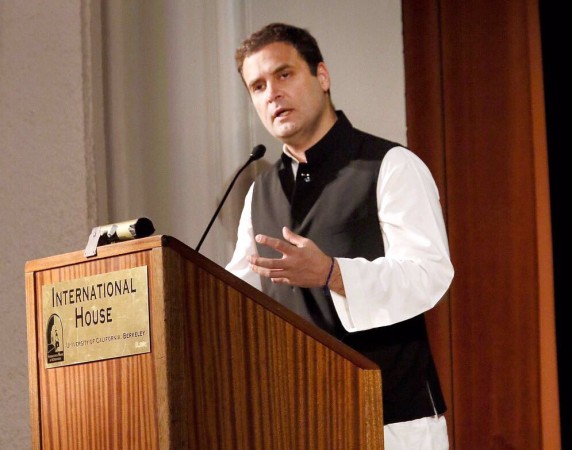 "The idea of non-violence is under attack today, yet it is the only idea which can take humanity forward... Hatred, anger and violence can destroy us. The politics of polarisation is very dangerous. Liberal journalists are being shot. People are being lynched, dalits are being killed over suspicions of carrying beef, Muslims are killed over suspicions of eating beef, all this is new in India," Rahul said during his session.
Rahul also slammed the Modi government for its decision to demonetise currency notes of Rs 500 and Rs 1,000 denomination last year, saying it cost the country millions of jobs and approximately 2 percent loss of GDP.
He added that Modi had also clamped down on the Right to Information Act, which the Congress leader said was more transparent during the UPA government. "The amount of information and transparency flying around in our time is not there anymore," he said.
Asked why he was a "reluctant" politician, Rahul said it was the perspective of the BJP and its followers who sit on machines. "Realise, that there is a tremendous machine, thousand people or so, and all they do is spread rumours about me. The operation is run by the gentleman running our country," he said.
'Give power back to lawmakers'
Rahul spoke about the current political set-up in India and said power should be given to the lawmakers in Parliament.
"Today, there is no power in Parliament. Power is outside the House and with the PMO and ministers. We need to give this power back to the lawmakers," he said.
"Administrative reform is important, but much more important is political reform. The real problem in India is that our political machinery — Lok Sabha, Rajya Sabha etc — is not empowered like it should be. We need to make sure our parliamentarians are involved in the conversation again," Rahul said .
On a two-week trip to the US, Rahul made the first stop at the University of California in Berkeley for the question and answer session. He is expected to meet US politicians and discuss policy and bilateral issues over the next few days.