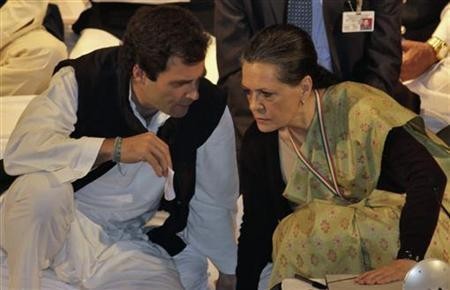 Congress Vice President Rahul Gandhi on Friday contradicted his own party and announced that the ordinance on negating the Supreme Court verdict over convicted MLAs and MPs should be 'torn up and thrown away'.
The Congress-led central government had approved an ordinance on Tuesday to reverse an SC judgement that mandated an immediate disqualification of politicians convicted for a criminal offence punishable with more than two years of jail term.
The move, if signed by President Pranab Mukherjee, would have saved Congress Rajya Sabha MP Rashid Masood, who is convicted in a corruption case.
The controversial ordinance would have also been a godsend for Rashtriya Janata Dal leader Lalu Prasad Yadav, whose party is an external ally to the Congress, as a verdict in his fodder scam case is due on 30 September.
With the Opposition crying foul over the Centre's move on the ordinance, which is pending on the president's desk, Rahul came out in the open and attacked his own party.
"My personal opinion is that the ordinance is a complete nonsense, it should be torn up and thrown away. We cannot continue to make these small compromises, all of us - political parties - that is. What our government has done with regard to this ordinance is wrong," he said during a press conference.
Congress General Secretary Ajay Maken explained that the party's stand has evolved since Rahul as vice president revealed his opinion.
The Opposition reacted saying Rahul's statements were nothing more than a political gimmick. "The timing is questionable of such statements, it is a political stunt. The President was probably returning back the ordinance after meeting with BJP leaders, so someone had to take the credit, and it was him (Rahul Gandhi)," Meenakshi Lekhi, Bharatiya Janata Party (BJP) spokesperson, told ANI news.
Latest Reactions
Arun Jaitley, Leader of Opposition (Rajya Sabha): "It is a desperate damage control exercise. It is belated realization of nonsense. The heads that brought this nonsense must roll. It's a charge that government can make mistakes and the Congress' first family cannot," he said.
Rajiv Shukla, Congress leader: "Whatever Rahulji says we stand with him," he told ANI.
Arvind Kejriwal, Aam Aadmi Party chief: "Rahul Gandhi sochte hain iss desh ke sab log bewakoof hain. Khud hi ordinance laate ho, khud hi faadte ho. (Rahul Gandhi thinks the citizens of this country are fools. First you (Congress) approve the ordinance then ask to tear it apart as well)," he tweeted.
Chandan Mitra, BJP Leader: "Rahul Gandhi on 'me too' trip after BJP's oppn to Ordinance. Is Sonia Gandhi with him or her 'selected' PM? India needs to know," he tweeted.
Click here to watch Rahul Gandhi's comment on the ordinance.