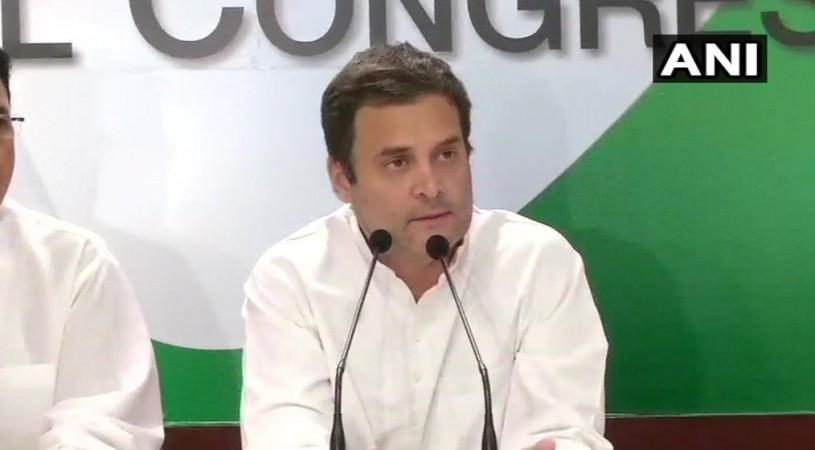 Congress president Rahul Gandhi has finally revealed his caste and gotra during a religious ceremony. According to the Hindu rituals, a devotee has to reveal his "gotra" during the "Abhishek" or offerings to gods.
The Congress chief has been under heavy attack from the ruling Bharatiya Janata Party (BJP) to reveal his caste after the former claimed to be an ardent devotee of Lord Shiva and a twice-born Hindu (janeu dhari).
The document signed by Rahul Gandhi at the ancient Brahma Temple in Pushkar shows that the Congress chief is a Kaul Brahmin and belongs to the Dattatreya gotra.
While signing the name at the end of the register, he wrote: "I Rahul Gandhi, son of Shri Rajiv Gandhi, have happily come to Pushkar for puja ceremony today on 26/11/2018. My heart is filled with joy after performing puja through my kul purohit Dinnanath Kaul and Rajnath Kaul. I pray for calm and peace in India and the world."
The ancient temple has witnessed visits from eminent personalities from the Nehru-Gandhi family and the tradition was started by Motilal Nehru. Old records show that Rajiv Gandhi visited the temple thrice and Sonia Gandhi has visited twice.
Rajiv Gandhi visited the temple during his tenure as the prime minister on June 6, 1989, and then again on May 2, 1991, just 19 days before he was assassinated while attending an election rally. He was accompanied by then-CM Shiv Charan Mathur and Ashok Gehlot.
Sonia Gandhi offered her prayers at the temple on November 17, 1998, and June 14, 2003.