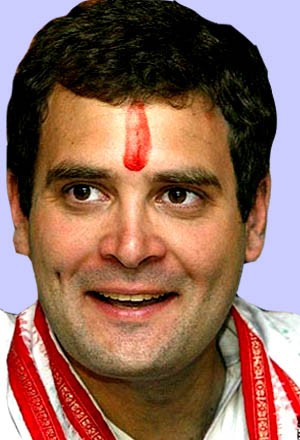 Congress Vice-President Rahul Gandhi cleared his stance on marriage and the prime minister post on Tuesday in an informal conversation with media personnel and Congress MPs.
Rahul who is seen as Congress's frontrunner for the PM post cleared the air saying, "Asking me whether you want to be Prime Minister is a wrong question," reported PTI.
But the chief answer came when Rahul said, "If I get married and have children, I will be status quoist and will like my children to take my place."
He divulged to the MPs his belief in the selfless service or 'Nishkaam Sewa', a key principle of Bhagwad Gita. Rahul has been working on to modify the party organisation systematically and he looks up to Mahatma Gandhi as his ideal.
In a country where decisions of the party are limited to the 'high command', Rahul accepted his grandmother's decision of the 70's which had led to this present state of affairs admitting, "If I would have been in her place, I would have also done likewise".
Rahul not only regretted the structure which allows concentration of power to the party's top brass but voiced his displeasure and wanted an improvement of the system. "I want to give voice to the middle-tier... empower middle-level leaders. There are some parties in India which are run by one leader, two leaders, five to six leaders and 15 to 20 leaders. My priority is to empower MPs as also legislators in states," The Times of India quoted him as saying.
Rahul who has been trying to cure the ills of his party said that the enhancement of the party machinery is necessary because a time will come when "the pressure from the youth will be such that there will be an explosion."