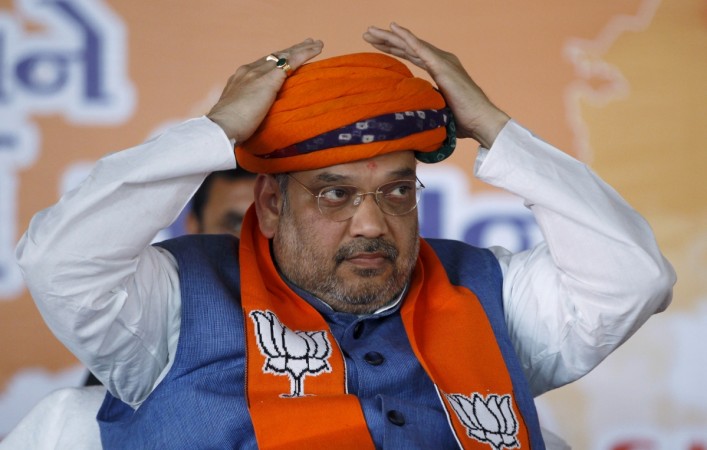 Bharatiya Janata Party president Amit Shah on Friday said that the party will "certainly go to the people" on the issue of Indian Army's surgical strikes across the Line of Control in Pakistan, while slamming Rahul Gandhi over his "dalali" comment that targeted Prime Minister Narendra Modi.
The political slug-fest that erupted since Rahul made his comments has revolved around posters in Uttar Pradesh that features BJP claiming credit for the surgical strikes. In an attempt to clarify his comments, Rahul Gandhi tweeted: "I fully support the surgical strikes and I have said so unequivocally...but I will not support using the Indian Army in political posters and propaganda all across the country."
Reacting to Rahul Gandhi's comments, Amit Shah said: "By his khoon ki dalali comment, Rahul has insulted the Army, the martyrs and 125 crore Indians...Dalali is what Congress did from Bofors to Embraer, from 2G to coal. Dalali involves some goods, what does he think this is about? "
"Can one put a price to the blood of jawans? The morale of the very Army that risked their lives to destroy terror camps has been broken by him. I do not know what he was trying to achieve but the government, BJP and the people are standing firmly behind the Indian Army," Shah was quoted as saying by the Indian Express.
BJP president further accused Rahul Gandhi and Delhi Chief Minister Arvind Kejriwal of politicising the issue and feeding Pakistan's propaganda.
Shah did not negate the possibility of the strikes featuring in the BJP campaign in next year's assembly elections in Punjab and Uttar Pradesh.
"Zaroor jayenge (we will go to the people). I said at the very beginning that if some tehsil president had put up some posters (a reference to posters celebrating the strikes) that should not be taken into account. But we will go to the public because Army morale needs to be boosted and this achievement of the Army needs to be lauded," Shah said.
"It was the achievement of the Army and the political will of Narendra Modi. Government was careful from the first day not to politicise that is why the briefing was done by the DGMO and not by a political functionary," he added.