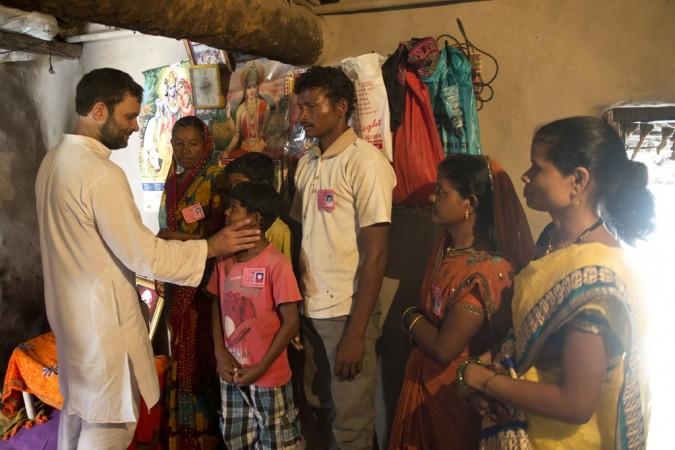 Congress vice-president Rahul Gandhi began his 15-km Kisan Sandesh Yatra in Telangana's Adilabad district on Friday. After launching the padyatra, he met the family of a farmer who allegedly committed suicide due to distress earlier this month.
He went to the house of farmer Velma Rajeswar and met his widow Gangavva Rajeswar and handed over a cheque of ₹2 lakh to her. Rahul also asked Gangavva about the loan taken by her late husband and what led to his death, The Hindu reported.
After meeting with Velma's family, he headed to his next stop. He is scheduled to meet at least five families in five different villages on the first day of his two-day visit to Telangana.
He will conclude the padyatra in Wadhial village, where he is expected to meet farmers and listen to their grievances. His walkathon will include around 200 workers from each of the 119 assembly constituencies in Telangana.
"His visit is meant to instil confidence among farmers that suicide is not a solution. It would also highlight the agony of the Telangana farmer under (chief minister) KCR's administration, which even failed to deliver on its promise of farm loan waiver," said state Congress leader Mallu Bhatti Vikramarka, according to Hindustan Times.
However, Telangana Rashtra Samithi (TRS) condemned the Congress scion's padyatra. TRS MP Kalvakuntla Kavitha claimed that Congress was politicising the farmers' issue, while other members of the party said this is yet another tour to state by the Gandhis, who come and go.
"It is a political tour and is ridiculous on the part of the Congress, which ruled for 50 years to now highlight the farmers' troubles. Anyhow, if Mr Gandhi can come up with a solution for the problem after his tour, then let him share it with us so that we can implement it to better the farming sector," Kavitha told HT.
Rahul reached Telangana on Thursday night for his two-day visit. He spent Thursday night in a hotel in Adilabad district's Nirmal town, IANS reported.
This is Rahul Gandhi's first visit to Telangana after it was carved out from Andhra Pradesh in June 2014.