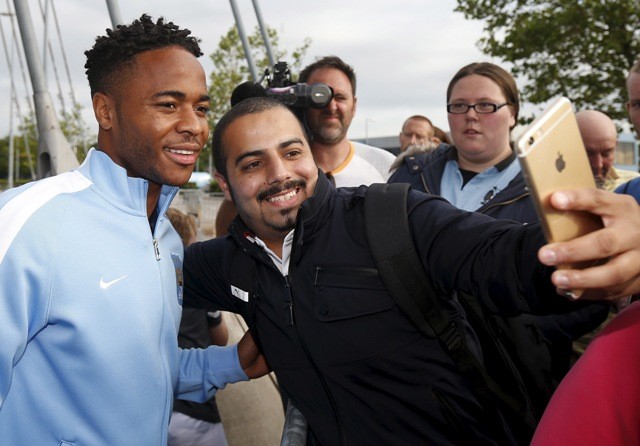 Raheem Sterling agreed a move from Liverpool to Manchester City not only to win titles 'year in, year out', but to play alongside the 'world class squad' at his new club.
The transfer saga hovering over the England International for quite some months came to a rest as the 20-year-old winger finally signed on the dotted line for Man City on Tuesday. The player has signed a five-year contract at the Etihad, but the Mancunian side have not quite mentioned the amount of fee involved in the transfer.
"The 20-year-old England international's transfer is a record fee for an English player and he also becomes City's record signing," a statement from City's official website was released last night.
According to reports, the move from Anfield to Man City cost a whopping £49m -- £44m with £5m in add-ons -- making Sterling the third in the list of most expensive transfers by British clubs. The list is topped by Angel di Maria (Real Madrid to Manchester United- £59.7m), with Fernando Torres (Liverpool to Chelsea - £50m) coming in second.
Sterling cannot be more excited to start training with Manchester City, as the playmaker is looking forward to playing with technically-gifted players like David Silva and Sergio Aguero. The player also revealed that he is 'glad' that all the transfer rumours surrounding him are finally put to rest.
"I'm just glad it's all over and done with and I can't wait to get on the training field," Sterling told Man City's official site.
"The thing that excites me the most is the world class squad we have and knowing we have a team that is capable of winning things year in, year out. The more quality players that are around you, the more quality it brings out in you so I can't wait to get started and play alongside them.
"The facilities are top class – there's everything you need here and plenty more. There's everything you need to take you to the next level so there's no excuses!" he added.
Sterling dominated headlines last week as the winger asked Liverpool not to include him in the club's preseason tour this summer -- the two-week trip to Thailand, Australia and Malaysia -- because he was not in the right frame of mind to play in the tour.
This infuriated Reds legend Steven Gerrard, and he came down heavily on the youngster. Seeing no solution at sight, Gerrard - who made his debut for LA Galaxy on 12 July - asked the player to leave Anfield and dispel the uncertainty over his career at the moment.
Sterling had been under contract at Liverpool until 2017, but he turned down a £100,000-a-week deal to extend his five-year stay at Anfield, earlier this year. This was believed to have turned relations between the player and Reds manager Brendan Rodgers sour.
However, not dwelling on the past and looking ahead to his future with a new club, Sterling thanked all his previous coaches, including Rodgers.
"I want to thank Brendan Rodgers for giving me a chance and an opportunity in the first team, giving me my full debut – against City funnily enough – and giving me a real chance to cement a place in the first team and show the world my talents," the 20-year-old stated.
Sterling will wear the No. 7 jersey for City. He will join the rest of the squad in Australia for Manchester City's preseason tour.