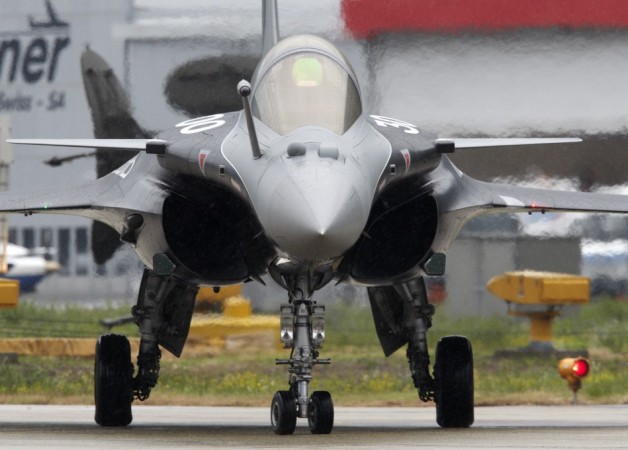 A French team of negotiators will reportedly arrive in India March 29 to resume pricing negotiations with India in the much-delayed Rafale aircraft deal. Following disagreements on the pricing of 36 fighter jets, the deal was not signed during French President Francois Hollande's visit to the country in January, the Tribune reported, citing sources.
India had rejected the price suggested by Dassault Aviation, the manufacturer of the aircraft, in January and asked it to quote a fresh price.
The report further stated that the ministry of defence has a benchmark figure of about $7 billion (or about Rs 46,000 crore), and believes that anything above that cannot be justified.
Hollande's January visit to the country as a chief guest at the Republic Day parade saw the two countries signing a memorandum of understanding (MoU), which could eventually lead to a formal inter-governmental agreement (IGA).
The French side had reportedly cited $9 billion (about Rs 59,000 crore) for 36 jets, and was willing to inlude two types of missiles (air-to-ground and air-to-air), pilot trainings, bombs and base facilities for aircraft as part of the deal.
The Indian Air Force is currently grappling with the issue of fielding a lesser (33 squadrons) than the mandated squadrons (44 squadrons) to protect the country from a possible two-front war with Pakistan and China.
A Rafale jet is a twin-engine, canard-delta wing, multi-role fighter aircraft that had surpassed the likes of Boeing F/A-18E/F Super Hornet, Eurofighter Typhoon, Lockheed Martin F-16 Fighting Falcon, Mikoyan MiG-35 and Saab JAS 39 Gripen for India's 126 multi-role combat aircraft.
But as the two sides have reached a dead end with regard to the price of the previous deal of 126 aircraft, the current government of Prime Minister Narendra Modi called-off the Multi Role Combat Aircraft (MRCA) tender and agreed to buy 36 jets directly via the government-to-government route in fly-away condition, citing "operational necessity" of IAF.