Rafael Nadal's doctor Angel Ruiz Cotorro has said the Spaniard's the hip injury "should not have been repeated" following his latest setback.
The 31-year-old was forced to withdraw from the quarter-final of the 2018 Australian Open due to a hip injury. After spending over a month on the sidelines, he had set his sights on returning to the court at the 2018 Mexican Open.
However, a recurrence of a hip injury he suffered in Melbourne forced him to pull out of the tournament in Acapulco. He is now recovering from the second injury blow in 2018 and has set his sights on returning to the court when the clay-court season starts in April.
Cotorro said he was surprised to see the 10-time French Open winner picking up the same injury before the start of the tournament in North America last month, especially after the 16-time Grand Slam winner showed no signs of suffering another setback.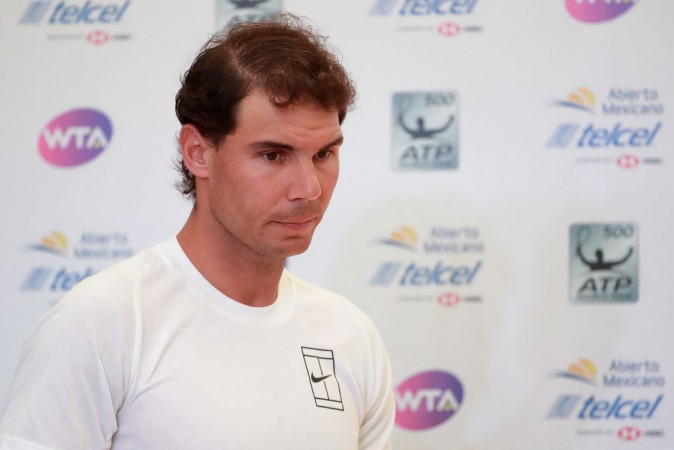 "Medicine is not two by two, it is not an exact science, unfortunately. What happened to Rafa can happen, but because of his evolution there was nothing that made us think that this would happen," Cotorro told Spanish outlet El Espanol, as quoted by the Express.
"He was training normal, very strong, and without noticing any discomfort. Nor did he feel charged. Suddenly, in a movement, he had a puncture and ... Sometimes these things heal, it seems that everything is fine, and it can happen.
"We have studied it and it is not usual what happened, it should not have been repeated in the time we have had. Five weeks was more than enough time to recover."
Roger Federer replaced Nadal at the top of the ATP rankings following the former's success at the Rotterdam Open. With the Spaniard's fitness concerns and Federer's form, it might now be difficult for Nadal to outpace the 36-year-old and regain the World No 1 spot.