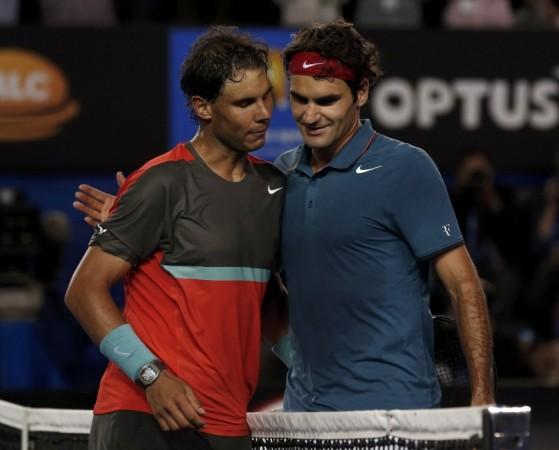 In what could be their last meeting in the Australian Open, two iconic tennis players - Roger Federer and Rafael Nadal - took on each other in the epic semi-final at the Rod Laver Arena on Friday; their 33rd meeting on court.
Nadal, who was facing a hand blister scare, was unstoppable on Friday, beating Federer in straight sets (7-6, 6-3, 6-3) to book a place in the final. The Spaniard dominated the game from the very start and ensured his opponent did not bounce back.
Federer, who has won a record 17 Grand Slam singles titles, had set up a clash with Nadal in the semifinals by beating Andy Murray 6-3, 6-4, 6-7(6), 6-3 in the quarterfinals. Meanwhile, Nadal beat Grigor Dimitrov 3-6 7-6(3) 7-6(7) 6-2 to book a place in the last four.
The 27-year-old Spaniard had the psychological edge when he took on Federer on Friday, considering his good record against him.
With the win on Friday, Nadal has improved his record against the Swiss icon to 23 wins out of 33 games. Nadal has beaten Federer in all three Australian Open meetings and now eyes another title win at Melbourne, which could take his Grand Slam tally to 14, which would see him match Pete Sampras' record.
Here is a head-to-head of the two tennis titans:
Total matches played: 33
Matches won: Nadal - 23; Federer - 10
Grand Slam matches won: Nadal - 8; Federer - 2
Grand Slam finals won: Nadal - 7; Federer - 2
Australian Open: Nadal - 3; Federer - 0
French Open: Nadal - 5; Federer - 0
Wimbledon: Federer - 2; Federer - 1