Rafael Nadal will be looking to win his third title this year in as many clay court tournaments when he goes up against first-time Masters 1000 finalist Dominic Thiem in the finals of the Madrid Open 2017. Nadal is currently on an unbeaten run of 14 matches and is looking to win his fifth title here at Madrid while Thiem is looking to win his second title of the year.
In the head-to-head record between the two Madrid Open finalists, Nadal has won three out of the four matches against Thiem with Nadal's latest win coming in the finals of the Barcelona Open. Nadal will be expected to continue his dominance over Thiem later on Sunday, May 14, and given the way he has dominated the clay court tournaments this year, the Spaniard will be expected to win the Madrid Open.
Also read: Andy Murray concerned about current form; criticises Maria Sharapova's wild card entry again
However, Thiem did manage to get the better of Nadal on clay in the 2016 Buenos Aires semi-finals; so it will be interesting to see how this match goes. Also after losing to Nadal in the finals of the Barcelona Open last month, Thiem will be determined to get one over him.
Nadal has just dropped one set at the Madrid Open so far, in his first match against Italian Fabio Fognini. He has dominated all of his other opponents including a comfortable win against Novak Djokovic in the semi-finals. That win over the Serb will certainly give him a lot of confidence heading into the finals and the Spaniard is determined to add another trophy to his name.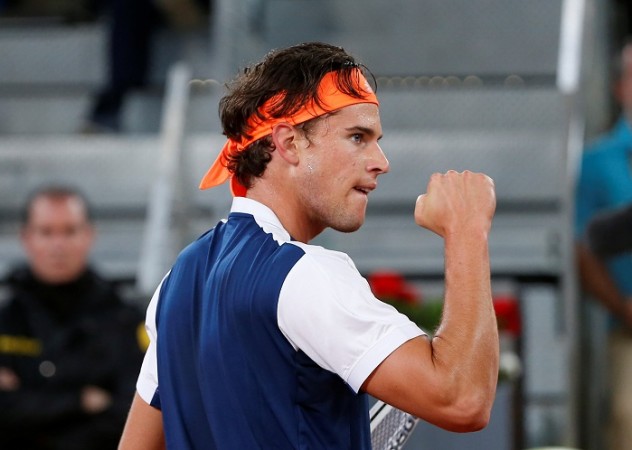 "What's important to me is to make it to another final. As time goes by, what is important is the titles, not the opponents that you have beaten. It's just the titles that you have won. It's true that some matches are more important than others," Livetennis.com quoted Nadal as saying.
"But I'm just here to try to make it the best possible way, to play my best tennis, and of course to beat an opponent such as Novak, it gives you a lot of confidence. It shows you you're working in the right way."
While Thiem will be hoping to add a second trophy to his name, the fact that he admitted before the start of the Madrid Open final that Nadal is the favourite might be a cause for concern for the Austrian but Thiem is still optimistic.
"I think he played a very good match in Barcelona. I played well also. If I'm at my best and he's at his best on clay, he's probably the better player. If you see his records on this surface, it's just amazing. But tomorrow is a new day. I will try to improve the things I didn't do that good in Barcelona and then we will see what happens," Thiem said.
"I feel great. It means a lot to play my first final at this level. These tournaments are so strong, so it's amazing for me to go that far. I'm very happy at the moment," Thiem added. "I will give everything tomorrow and hope I can play a good final."
Just like Nadal, Thiem also has dropped just one set so far in the Madrid Open but the eight seed faces a completely different test against Nadal in the finals.
Where to watch
The Madrid Open final between Rafael Nadal and Dominic Thiem is set to start at 6.00pm local time, 9:30pm IST and 5:00pm BST.
TV and live streaming information
India: TV: No coverage. Live streaming:Sony Liv.
UK: TV: Sky Sports Mix. Live streaming: Sky Go.
USA: TV: Tennis Channel. Live Streaming: Tennis Channel Live.
Global live stream: Live tennis.