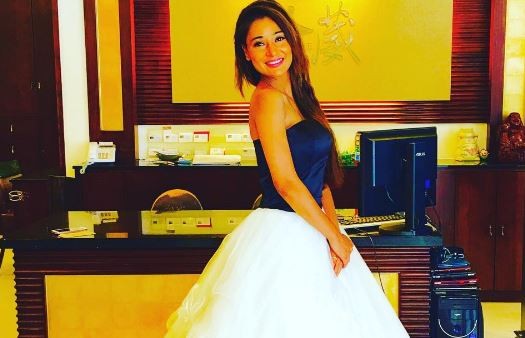 Television actress Sara Khan was in news for the wrong reasons on Thursday, April 6, when reports of her being arrested in Pakistan surfaced. The Bidaai actress was in Pakistan to shoot for her second Pakistani TV series and was supposed to return to India on March 28 to film for Indian daily soap, Jana Na Dil Se Door. But she was reportedly held back for overstaying her visa.
Sara has, however, rubbished the rumours claiming that she stayed back for NOC (No Objection Certificate). "I was told to stay back for my NOC and I stayed in my five-star hotel not in police custody. I don't know who the f**k is spreading such news. I was not doing anything illegal there. I stayed back to get the NOC. I was two days above my visa because of flight issues. Then, the immigration people told me that I need to take the NOC. Then, I stayed back there got the NOC and came back to Mumbai. I was not detained, I was retained there," she told Bollywood Life.
However, it turns out that the action against Sara was apparently in retaliation to Pakistani actress Mahira Khan being banned in India for promoting her Bollywood film Raees.
A source told Bombay Times: "Sara was scheduled to return on March 28. However, there were no flights available to India for the next two days, which forced her to extend her stay. When she approached the immigration counter at Karachi airport on March 30, the staff recognised her. They then cited Mahira's example and said, 'Remember how Mahira was treated by your people? How can we let you go so easily, especially when the equation between the two countries is so critical?', After she pleaded with them, they relented, but delayed issuing the NOC by a week. It was quite scary."
After completing the paper works, Sara finally returned to India on Wednesday, April 5 and straight away headed to the sets of the show Jana Na Dil Se Door.
Last year during the ongoing tensions between India and Pakistan in the wake of the Uri attack, Sara had remained unfazed and continued shooting for her Pakistani show in the country. She had even told in an interview that she was having a tough time pacifying her worried parents back in India.
"There was no restriction on my movement and I was not ill-treated. In fact, they were quite courteous. But yes, the delay did inconvenience me as I had to commence the shoot of my new soap in India. After this incident, I would like to assert that East or West, India's the best," she told Bombay Times.