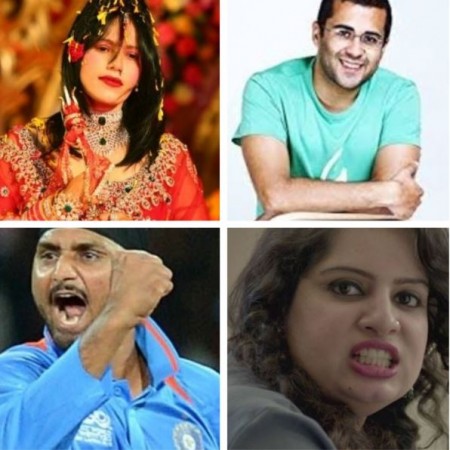 Let's take a look at 5 celebs who can add spice and thrill to the otherwise snoozefest, that is this year's Bigg Boss.
Radhe Maa: Controversies favourite child Radhe Maa would add the perfect tadka that the Bigg Boss house needs. The self-styled and proclaimed Godwoman has time and again courted controversies due to her gimmicks and unbelievable antics.
The former devotee of Sukhwinder Kaur aka Radhe Maa, TV actress Dolly Bindra had once alleged that Radhe Maa had forced her to have a sexual relationship with a stranger. She had also alleged that her followers had tried to molest her during a satsang. We had also seen how Radhe Maa had shut one of the reporters with her unfiltered, unapologetic attitude. For the last two seasons, Radhe Maa's name has cropped up as one of the contestants. We would love to see some of Radhe Maa's devotional angle and that spicy tadka within the house too.
Mallika Dua: What this season of Bigg Boss lacks is a bit of humour, a bit of wit and a bit of laughter. And Mallika Dua is the only one who can bring it all together in one package. Ace comedian and youtube star Mallika Dua known for her Snapchat videos has been a sensation on social media. And it would be phenomenal to watch her bold and bindaas attitude 24/7 within the house. Ain't it?
Harbhajan Singh: Now, unless you have spent all your life living under rocks, you'd know all about the infamous slapgate incident between Harbhajan Singh and S Sreesanth. Even though Sreesanth boasts of being mentally and physically strong within the house, we all remember how he had howled like a baby when Bhajji paaji slapped him on the field. Even after all these years, the fire within the two against each other has still not died down. And it would be thrilling to act as a catalyst and send Bhajji inside. What say?
Chetan Bhagat: With all the latest soup he has landed himself in, Bigg Boss would not only prove out to be a good platform for him but, we too would love to see the famed author defending himself. And with his foot-in-the-mouth syndrome, we are sure Bhagat would give us some of the most sensational fights to remember within the house.
Kumar Vishwas: "Koi deewana kehta hai, koi pagal samajhta hai...!!" An ace poet and a phenomenal orator, who wouldn't want to get mesmerised in his world of shayaris and poetries when he comes into the house. Not only would he prove out to be a big threat to Anup Jalota but, with the election just around the corner, it would be fun to watch him share his voting campaign inside the house, totally in his style.