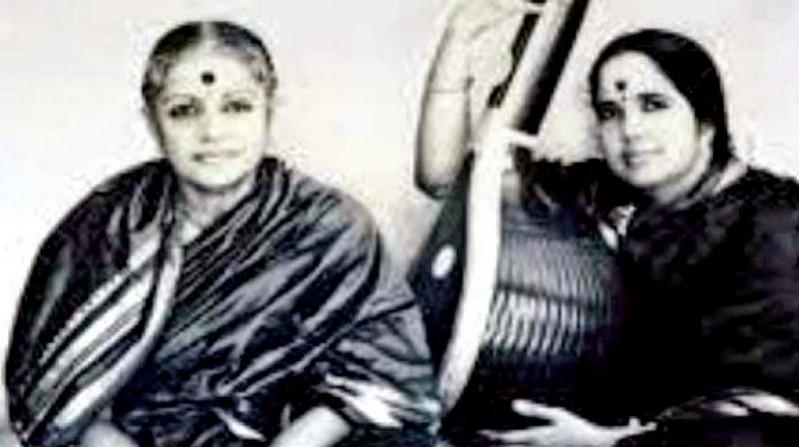 The popular Carnatic vocalist and daughter of MS Subbulakshmi, Radha Vishwanathan, who passed on Tuesday, was a distinct voice in the music world. The musician, who accompanied MS Subbulakshmi for nearly five decades in and around concerts, died in Bengaluru late on Tuesday.
According to reports, she had been suffering from pneumonia for the last few weeks and breathed her last at 11.50 pm on January 2.
Radha Vishwanathan had reportedly conducted music teaching sessions even two weeks ago for her granddaughter.
She had moved to Bengaluru from Chennai more than a decade ago to be close to her son, V Shrinivasan, and continued to teach music lessons to her granddaughter Aishwarya.
Radha Vishwanathan was born at Gopichettypalayam in Tamil Nadu in 1934.
She was the eldest daughter of T Sadasivam and his first wife. Radha Vishwanathan was two years old when MS Subbulakshmi married Sadasivam and she had been brought up by MS Subbulakshmi thereafter.
"As the Venkatesa Suprabatham, Vishnu Sahasranama and Bhaja Govindam play out in millions of temples and homes across the world, the voice of Radha will be heard, inseparable from the voice of her legendary Amma," said V Shrinivasan in his Facebook post.
Being a dedicated musician herself, she always cherished the golden moments of music with MS Amma in all her conversations. Radha Vishwanathan was also a talented dancer known for her expertise in "abhinaya".
"The body has been kept for public viewing at "Suswaralukshmi" 29 ROYAL HERMITAGE, Bannerghatta Road, Gottigere, Bengaluru 560083 from 7 am to 3 pm," V Shrinivasan wrote on Facebook.