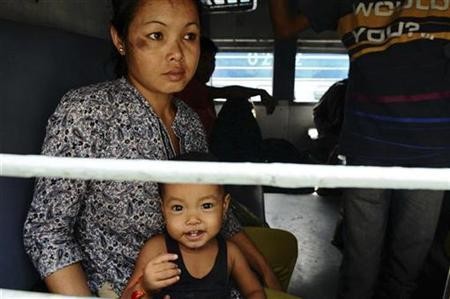 In a fresh incident of a racial attack on people from the north-east, a Manipuri student leader was reportedly assaulted in Bangalore late on Tuesday, once again raising fears among the large north-east community in the city.
According to Hindustan Times, 26-year-old T Michael Lamjathang Haokip, president of the Thadou (Manipuri tribe) Students' Association, Bangalore, was attacked with stones in the Kothanur part of the city, for failing to speak in Kannada when he was at a roadside eatery with his friends.
"Suddenly, three men came and started giving us orders in Kannada. All we could understand is that they wanted us to move. But they started asking us all sorts of things and when we could not answer, they started raising the Kannada issue," Haokip told HT.
"They kept asking me to speak in Kannada. They said, 'If you outsiders know how to eat food that is produced in Karnataka, you must also know how to speak in Kannada. This is India not China.' I tried to reason with them but they were hysterical," he said.
Two other members of the students' association, Ngamkholen Haokip, 28, and Rocky Kipgen, 25, also faced the wrath of the attackers, but sustained only minor injuries. Haokip was attacked on his head and back.
Haokip described how a mob quickly formed against the members and even chased them as they ran to the police station.
"A friend from my community, Letmang Haokip, 35, was passing by on his motorbike at that time. I jumped onto the bike and we started racing towards the police station. But the mob followed us on their bikes and one of them crashed into us. We fell down and I started running for my life towards the police station. Just then a police patrol car arrived and the mob scattered," Haokip said.
Bangalore police have made three arrests in this connection, but that may not allay the fears and concerns of the community and any outsider, in general. The area where the assault occurred, houses many people from the north-eastern states and even from other places in the world, such as Africa.
This comes two years after several north-eastern students staying in Bangalore had to flee the city after rumours of attacks on them started doing the rounds.