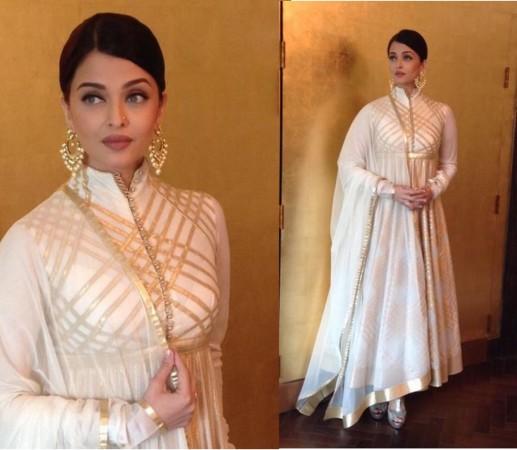 Bollywood actress Aishwarya Rai has landed in trouble for acting in a jewellery advertisement, which depicts child slavery and racism.
The actress, who is the brand ambassador of a popular jewellery brand, is seen posing with a "dark and emaciated" child holding an umbrella.
Many have even criticised the actress for acting in such an offensive ad after an open letter to the actress on Scroll.in started doing the rounds on the Internet.
The open letter was written to the actress after a full-page advertisement for Kalyan Jewellers, featuring Aishwarya appeared in The Hindu (Delhi edition) on 17 April 2015.
"In the advertisement you appear to be representing aristocracy from a bygone era – bejewelled, poised and relaxing while an obviously underage slave-child, very dark and emaciated, struggles to hold an oversize umbrella over your head," the letter states. "We wish to convey our dismay at the concept of this advertisement, and that you have, perhaps unthinkingly, associated with such a regressive portrayal of a child to sell a product."
Activists criticize racist ad with #Bollywood's Aishwarya Rai #Bachchan by @KalyanJewellers http://t.co/2JBTh5PHTN pic.twitter.com/2MyDYK0W4V

— Sunjeev Bery (@SunjeevBery) April 22, 2015
Similar racist portraits have also been included in the letter, which can be traced back to 17th and 18th centuries.
Activists have also requested the actress and jewellery brand to stop circulating this offensive advertisement, which features child slavery or servitude.
"We urge you to do the right thing – cease to associate yourself with this offensive image by ensuring that further use of this advertisement is stopped."
The former Miss World, who is set to make a comeback to the industry after the birth of her daughter Aaradhya Bachchan, will be next seen in Sanjay Gupta's action drama "Jazbaa", which is set to release in October 2015.