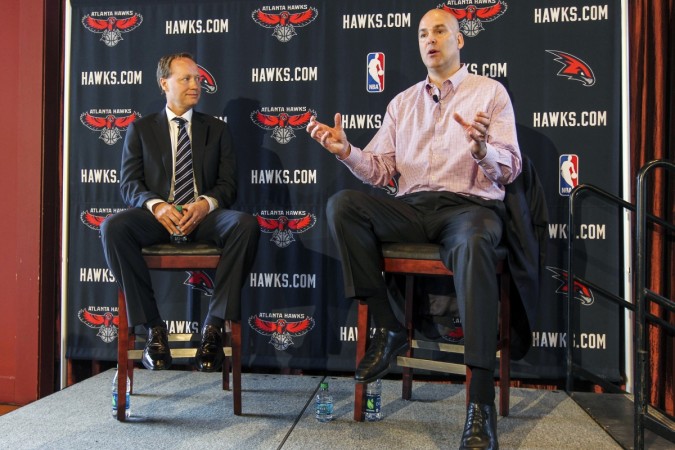 Caught in the middle of a racism controversy after the release of an audio recording, Atlanta Hawks General Manager Danny Ferry went on an indefinite leave of absence on Friday.
Ferry discussed Luol Deng in a conference call with the Hawks ownership group. While reading a report written by an external scout, Ferry said, "He's got some African in him. And I don't say that in a bad way. But he's like a guy who would have a nice store out front but sell your counterfeit stuff out of the back."
Ferry was initially disciplined by the club, but after after an internal investigation an offensive e-mail was released that led to more controversy. Many demanded him to be fired for racism. However, Ferry reportedly has the backing from many renowned people including NBA commissioner Adam Silver, who voted against firing Ferry.
Hawks CEO Steve Koonin has also refrained from dismissing Ferry but has granted him a leave of absence.
"My hope that this time away from the Hawks organization allows him the privacy he needs to listen to the community, to learn about his mistakes, and to begin the long process of personal healing," Koonin said.
Ferry issued a statement saying he would like to undergo sensitivity training and gave no hint of stepping down.
"My focus moving forward is to tirelessly work to rebuild trust with this community and with our fans," he said.
"No words can adequately describe my remorse for the hurt that I have caused many people through the statements I repeated, most importantly Luol Deng," Ferry said in his statement.
"While these were not my words, I deeply regret repeating them. Almost all the background information I provided during the lengthy presentation regarding Luol was positive and my personal and professional recommendation during the call was very much in favor of adding Luol to our team, but I never should have uttered those offensive remarks and for that I apologize."
Meanwhile, Deng, who was signed by the Miami Heat, had no clue about Ferry's racial comments until this week. However, he said he was proud of his African roots and he was "saddened and disappointed that this way of thinking still exists today. I am even more disturbed that it was shared so freely in a business setting."