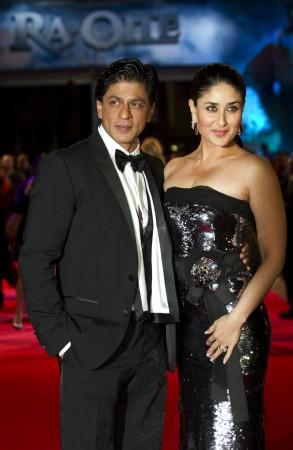 The voice of the critics, to a considerable extent, influences the success a newly-released film enjoys. Films with big stars usually open well; however, critics do have a say even in such cases.
Judging, therefore, by the initial response, it seems Shah Rukh Khan's sci-fi and superhero film, "Ra.One" will do well. Most of the film critics have given good reviews to the film though some are not very impressed.
Critic Nikhat Kazmi is all praise for the film, although she did say that it was lacking an emotional core.
"Ra-One is sure to usher in a crackling Diwali at the box office and give the audience paisa vasool entertainment, with fine performances by both Shah Rukh and Kareena. Even young Armaan is efficient. Go have a blast," she says.
Taran Adarsh, a popular film critic feels that "Ra.One" is quite a match for any international film, at least in terms of execution.
"Ra.One" is a solid entertainer, no two opinions on that. It's not merely a great looking film, but also has soul, which is so essential to strike a chord with the avid moviegoer. As for the business prospects, it is sure to shatter all previous records and set new ones, in India as well as internationally. The film will be the new yardstick for measuring success. It has Blockbuster written all over it!" he said, clearly with enthusiasm.
However, Aniruddha Guha is of the opinion that director Anubhav Sinha has not moved away from his earlier films "Dus" and "Cash".
"It is beautiful in appearance, but empty within. Which is a pity. Anubhav could have really made a mark with this one," she said. Further, she is unimpressed by the lead actors.
"Another half attempt comes from the lead actor: Khan is in-his-element and endearing as superhero G.One, but annoyingly OTT as video game creator Shekhar. Even though die-hard fans will freak out, SRK'S G.One lacks the chutzpah of Main Hoon Na's Major Ram, where he similarly vanquished a terrorist called "Raghavan" at the end," she wrote.
Saibal Chatterjee said that "Ra.One" delivered the goods as far as pure entertainment was concerned but it didn't provide anything extraordinary.
"What you see is passable, what you hear is enjoyable, but what you take away is insubstantial. "Ra.One" is like a colourful Popsicle that looks tantalising, tickles the palate while it lasts, but leaves no particular after-taste. Sound and fury? Loads of it. Significance? Not much," wrote Saibal.
"Ra.One" is a sci-fi film starring Shah Rukh Khan, Kareena Kapoor and Arjun Rampal in the lead roles.