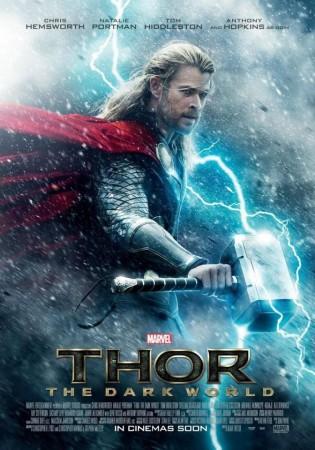 As everyone waits with bated breath for the release of "Thor: The dark World", experts are predicting that the Asgardian son's hammer will smash some box office records when it releases Friday, Nov. 8. The sequel to Marvel's "Thor" is expected to have a grand opening, according to several news reports.
"Thor: The Dark World" has already hit theatres in some parts of the world and has been received well. The movie is expected to rake in good money on its domestic debut. Apparently, it made a massive $13.9 million on the opening night in the U.K. Until now, the movie has collected $109.4 million worldwide, according to Contact Music
The second instalment of the Marvel movie is expected to at least mint in $75 million on the opening night in America.The buzz about the international earnings could also multiply the figures of its first-week screening in the country, reports The Hollywood Reporter.
the film will also hit theatres in Canada, India, Romania and a few other countries on Nov. 8.
So how did people from other parts of 'Midgard' (earth) like the movie? Apparently, quite a lot!
"What weird sorcery is this? "Thor: The Dark World" may not be thunder from the movie gods, but it is - shock! - an entertaining journey into mystery, action and fun," writes Joe Numaier for Daily News.
"It may not be the finest film to come from the Marvel Universe, but Thor: The Dark World still offers plenty of the humor and high-stakes action that fans have come to expect," according to Rotten Tomatoes, which gave the movie an average rating of 6.4 out of 10. Viewers have rated it 77 percent 'Fresh'.
The story of "Thor: the Dark World" sees Asgard and Midgard being attacked by the 'Evil Elvish Race' after Jane (Natalie Portman) discovers the 'Aether', a form of energy that could condemn the nine realms into darkness. The movie will see Thor (Chris Hemsworth) reuniting with Jane and joining forces with the beloved villain, his evil half-brother 'Loki' releasing him from the Asgardian prison.
Will Thor be able to rescue the realms? Will Jane and Thor have a happily ever after? Will Loki betray his brother this time?
Catch the movie at your nearest theatre and tip us off about how you like the movie.
Check out the trailer below: