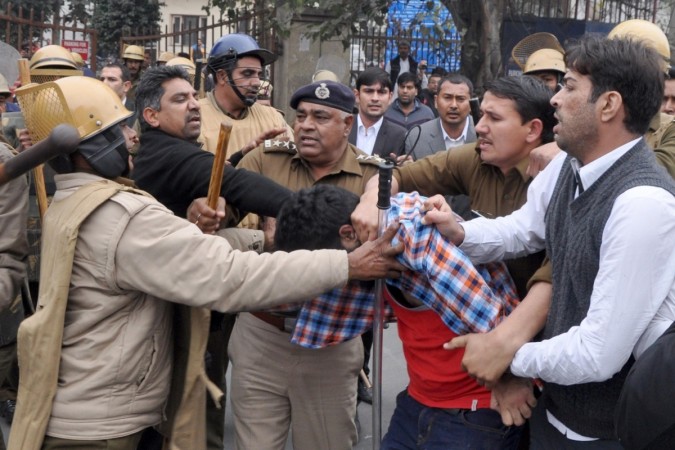 Update: 2.15 p.m. IST: Haryana Chief Minister Saturday urged protesters to maintain calm and said all demands for an Other Backward Classes (OBC) quota for Jats will be met as long as it is constitutional.
Over three thousand army personnel are in the state to aid the state police in reigning in the violent protests that have halted life in Haryana and affected operations in neighbouring states as road transport and railways were impacted, reports NDTV.
Delhi Chief Minister Arvind Kejriwal raised concerns over the protesters obstructing water supply to Delhi through the Munar canal. Deputy Chief Minister Manish Sisodia tweeted, "Have spoken to HM about Munal canal crisis. He has assured me to direct Army Chief and do the needful to avoid water crisis in Delhi."
Original Story: Army was deployed in various cities in Haryana, Saturday, after protesters demanding quota for jats turned violent leading to deaths of at least three people on Friday. Of them, one was killed when police opened fire at a violent mob.
Bhuda Khera railway station in Jind district was set on fire, Saturday and the army has now been flown into affected areas like Rohtak, Jind, Hisar and Jhajjhar among others, reports NDTV.
The state highways remained blocked and almost 500 trains were affected. Supply of food items have also suffered, while schools remained shut in areas where the agitations turned violent.
Flag march was conducted in Bhiwani, where a curfew has been imposed along with Rohtak, even as protesters refused Chief Minister Manohar Lal Khattar's offer to increase the Economically Backward Classes reservation to include the Jats, saying that he had "casteist mentality", reports Hindustan Times.
"Only Haryana CM has problem in giving reservation to Jats. Rest of leaders in Bharatiya Janata Party (BJP) are in favour of giving reservation. Khattar has jatiwadi mansikta (casteist mentality) because he is not a Jat. He is trying to prove himself as a leader of non-Jat people in the state by way of not giving reservation to Jats as was done by former Haryana Chief Minister Bhajan Lal in the past. His (Khattar) stand is against party line. The problem in Haryana today arose because of his mentality," Yashpal Malik, national president of the All India Jat Aarakshan Sangharsh Samiti, told Hindustan Times.
Home Minister Rajnath Singh, Defence Minister Manohar Parrikar, External Affairs Minister Sushma Swaraj and Finance Minister Arun Jaitley, late on Friday, held a meeting to review the violent turn of events in the BJP-led state, reports NDTV.
On Friday, shoot-at-sight orders were issued in Rohtak and Bhiwani by the state government. On Thursday, section 144 was imposed in Rohtak and mobile internet was shut down as protesters set fire to a state cabinet minister Capt. Abhimanyu's house, a mall and several vehicles.
Jat leaders and Khattar met Friday where the state government agreed to concessions to the community by providing them reservation under the Economically Backward Classes quota. The quota would have increased from 10 to 20 percent to include Jats. However, the leaders refused the offer and asked to be included in the Other Backward Classes (OBC) quota. The OBC quota would give Jats reservation in educational institutions and employment.
In March 2015, the Supreme Court had overturned the UPA government's policy giving reservation to Jats in nine states saying: "caste, though a prominent factor, cannot be the sole factor of determining the backwardness of a class," according to India Today.