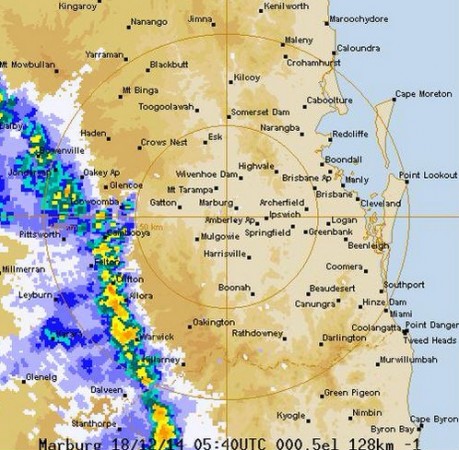 Queensland, Australia is bracing for a potentially serious weather condition that may follow the massive thunderstorm on Thursday night.
The weather bureau has warned of a severe thunderstorm that could bring damaging winds and very heavy rains across the area. The weather system has moved across Brisbane and Ipswich leaving thousands without power and causing major delays in the train services.
The authorities had warned of "very dangerous" storm heading towards Brisbane, Logan and the Gold Coast, according to ABC News.
By 6pm Australian time, heavy rain and strong gusts of winds swept through Brisbane metro area and then the Gold Coast with a wind speed of about 80kmph.
Many Christmas activities planned for central Brisbane tonight stand cancelled, reports news.com.au. Brisbane is expected to be worst hit post 6pm local time.
By 6.30 in the evening, there were major delays on train lines from Brisbane to Beenleigh and the Gold Coast. Minor delays were also noted on all other Brisbane lines.
Senior forecaster Adam Woods was quoted earlier as saying that some of the storm cells were intense. "Oakey and Wellcamp weather stations recorded gusts at 100kmph and 70kmph at Toowoomba so far," he said.
"That system is moving eastward towards the [Brisbane] CBD. It is entering a more favourable thunderstorm condition. This means the storms may become stronger as it moves south-east."
At least 6,130 homes and businesses had to face power failure in Brisbane while another 5,101 in Ipswich, 2,800 in Logan, 1,178 in the Lockyer Valley and 1,318 in the Scenic Rim remained in the dark for hours, reports ABC.
Overall estimation suggests that over 17,000 homes are currently without electricity in the area.