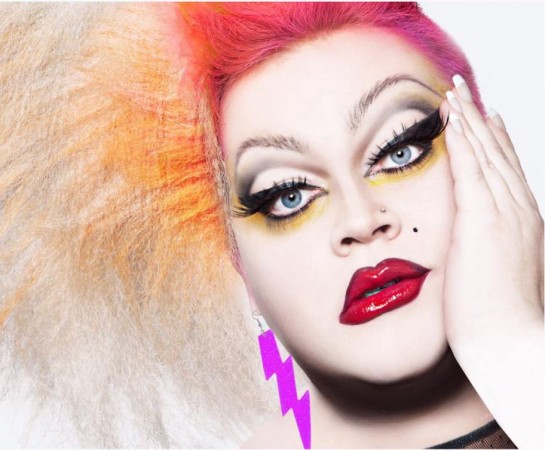 Season 2 of "RuPaul's Drag Race All Stars" has been pretty controversial in that Ru has put the responsibility of weekly eliminations on the queens themselves. However, they came up with a clever way of dealing with this challenge by eliminating their sister who received the worst criticisms on the runway.
This allowed for the queens to eliminate each other without hurting each other's feelings. However, Alyssa Edwards flipped this pact in the previously aired episode 4 and eliminated Ginger Minj, who received fairly less criticism than Katya.
As part of International Business Times, India's weekly "Queen That Sashayed Away" series, Ginger spoke to us regarding her journey on "All Stars," her reaction to Alyssa's decision and Ru's offer of revenge. Check out what she had to say:
International Business Times: Do you feel you have accomplished everything (minus the crown) that you set out to achieve with All Stars 2?
Ginger Minj: Well, I never had a specific game plan going into All Stars. It was a second shot at showing the world that I am growing, changing, and learning, and I think I did that. I wore things I would never have dreamt of wearing during season seven.
IBT: Alyssa had told you that she sees the fire in your eyes, and further said on the main stage that she wants to save the queen who has the fire for more. Do you think she made the right choice by letting you do purely by this logic?
Ginger: She made the choice she thought was right, and I can't get mad at that.
IBT: What was your reaction to hearing about All Stars 2 eliminations, in that not Ru but fellow queens will choose who gets eliminated?
Ginger: It was hard to process, and even is to this day. Because you suddenly have more responsibility. You're already concentrated on being the best, better than everyone else, now you have to determine who is the worst as well. I'm glad I didn't have to make the decision, cause I don't know!
IBT: Are there any queens from Season 7 other than Katya that you wanted to see in All Stars 2?
Ginger: I really hoped that Kennedy or Trixie would be there. I love and adore both of them, and they got the shaft on season seven.
IBT: There is a lot of debate on social media about how the editors portray Phi Phi. While one set says she is quite crafty and cunning when it comes to competition, others say she is the victim of "genius" editing. What is your take on the matter?
Ginger: Well, all of the situations shown did happen. They of course had to be cut down to fit into an episode, but all of the altercations were very much real.
IBT: What did you think when you heard about Ru's plan to bring the eliminated queens for their revenge?
Ginger: To be completely honest, I just wanted to leave at that moment. I wasn't mad or upset, I was just tired. I had been on my feet all day, and wanted to sleep...nope, never mind! You are coming back to get revenge! I didn't have the mental capacity to capture it at the time. The next day I woke up laughing maniacally over I don't even know what -- I thought the whole thing was so funny.
IBT: What can fans expect from Ginger Minj in the near future?
Ginger: I'm coming out with an album I've worked really hard on for over a year, and I just wrapped a TV series pilot, so hopefully it gets the green light!