It has been a couple of weeks since Prince Harry and Meghan Markle made headlines with their first official appearance as a couple at the Invictus Games.
Walking out hand-in-hand, the couple looked like they were out on a mission — to just be done with the whole first appearance.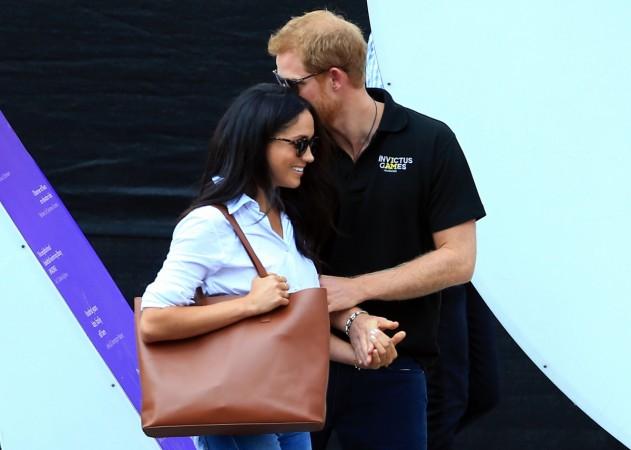 Sporting a casual pair of ripped jeans and a white shirt, the Suits actress kept the first appearance outfit simple and grounded.
While this is normal attire for celebrity couples, it is not something the royals would sport. And this precise reason has disappointed the Queen, a new report claims.
Also Read: Will Prince Harry's girlfriend Meghan Markle wear a gown by Middleton wedding dress designer?
Sources from the royal family claim the Queen is upset with Meghan over the clothes she wore for her first public event with Harry.
"The Queen thought Meghan's loose, men's-style shirt, ripped jeans and oversized bag were not a suitable choice for her first public engagement with the Prince," a royal insider claimed to OK! Magazine.
That's not all! Apparently, Queen is not happy over the couple breaking royal protocols.
The hand-holding and PDA has not been welcomed and as a result, the Queen has decided Meghan needs royal grooming.
Taking things into her hands, OK! claims that the Queen has asked Harry and Meghan to refrain from holding hands in public and has arranged for a coaching session on "royal protocol and etiquette" for the American actress.
"Meghan needs to step up her game to join the royal family. Luckily, the Queen is prepared to do whatever necessary to help," the source claimed.
Though these claims sound true considering the couple might indeed have broken some royal protocols, Gossip Cop called out OK! and clarified that the Queen is not pissed or disappointed whatsoever.
A royal source confirmed to the gossip website that the report was "not true." Such information would never be given to a gossip website like OK!, the insider told Gossip Cop.
Mail Online has also revealed that there is no written protocol that forbids royal couples from holding hands.
"The Queen rarely holds hands with her husband in public and this seems to have set an unwritten precedent for the other royals," body language expert Robin Kermode explained.

"It is very clear that William and Kate are emotionally close. However, they do not seem to feel the need to prove their love — particularly when on official state business. They come across as a strong, independent couple and while they are always on show, they do not feel the need to 'show' their love for each other to the world," Kermode revealed.
The Sun also argued that Meghan and Harry were not "at work", allowing them to be intimate.
"Meghan isn't a member of the Royal Family, she wasn't attending the Invictus Games for business reasons," the site reported.