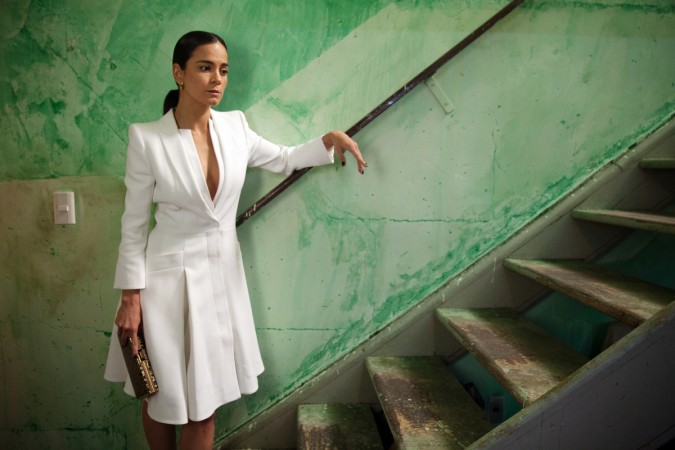 The second episode of USA Network's new show, "Queen of the South" will delve more into Teresa's background as it will introduce viewers to a familiar face from her past. The episode is titled "Cuarenta Minutos" and it will see Teresa, the role essayed by actress Alice Braga, being forced to fend for herself to avoid being forced into prostitution.
The series is based on the novel "La Reina Del Sur" by Arturo Pérez-Reverte and it showcases Teresa's rise from a money changer in Mexico's Sinaloa to the leader of a drug cartel. The show introduced viewers to Teresa's attempts to seek refuge in the U.S. after her drug-dealing boyfriend is murdered in Mexico. As the show moves forward, we'll see her teaming up with unlikely forces to take down the drug trafficking ring that wants to take her down.
Braga recently opened up to NBC News about "Queen of the South" and said one of the specialities of the show is its diverse cast. "All of the actors are from different backgrounds, one is from the Dominican Republic, I'm from Brazil, there's one from just the border of Tejas, [and] a Puerto Rican, and that's something I think is very important nowadays, for us to have so many Hispanics who live in the U.S. We have such a big Latin community, that just to be part of a show like this is very special."
As for the next episode, the official synopsis for the episode reads: "Still reeling from the loss of Güero's (Jon Ecker) and her escape to America, Teresa (Alice Braga) has to fend for herself and avoids being forced into prostitution by proving her worth to Camila (Verónica Falcón). Epifanio's (Joaquim de Almeida) hunt for Teresa leads him to contact Camila. Meanwhile, in Mexico, Brenda (Justina Machado), desperately tries to contact Teresa as she and Tony (Adolfo Alvarez) evade Epifanio's hit men."
USA Network's "Queen of the South" will air Thursdays at 10 pm ET.