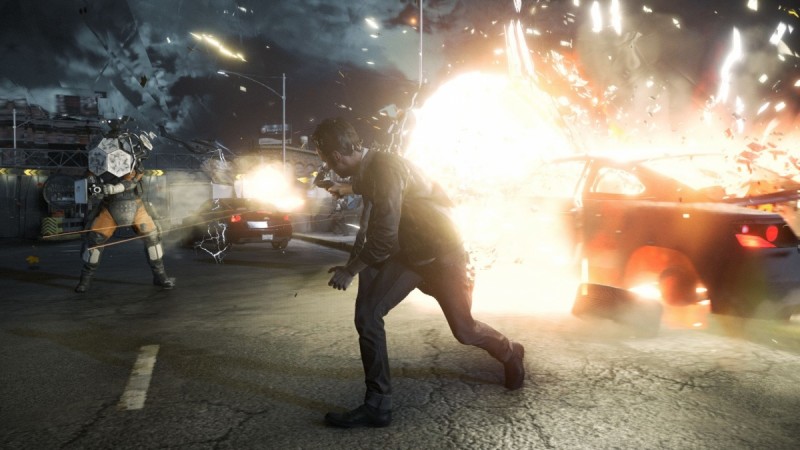 Quantum Break, the upcoming third-person shooter video game from developer Remedy Entertainment and publisher Microsoft Studios was confirmed for release in 2015. The company said that it was "excited to announce" the live demo of the gameplay at Gamescom in August.
"Quantum Break will deliver an unprecedented fusion of cinematic gameplay and high-quality, live-action storytelling," said Remedy in a post on the official website. The game will be an Xbox One exclusive. Fan can also check the two minutes gameplay teaser in the video.
A TV series on the game being produced with Remedy and it can influence the TV show, which will let players know how to play the game efficiently.
The setting of the game is in a fictional North Eastern U.S. Riverport University. One of the experiments that were conducted here was on time travel. This experiment went astray and the three main characters in the game, Jack Joyce, Beth Wilder and Paul Serene gain the capability of manipulating time. Players will be following the schemes of a huge corporation, named Monarch which is the game's protagonist, Jack Joyce's main enemy.
"We are working hard to bring you an entertainment experience that is like no other," said Sam Lake, creative director of Remedy in the video.
The game is a cover-based shooter with time-manipulation mechanics. Remedy Entertainment's previous work included Max Payne and Alan Wake. Remedy took consultation from a scientist who worked at CERN to have a plot that retains the current theoretical physics.
Both the video game and episodic TV series will be shipped together.
Project Beast Alleged Video Appears
A new video has appeared online that suggests it is from the rumored Project Beast video game at development in From Software, developers of the Dark Souls franchise. The footage show a character walking with a shotgun and has fantastical enemies.
From the video, the game seems to be an installment of Souls series, whose IP is owned by Sony. Rumors have suggested that From Software will work with Sony Japan Studios for collaboration leading up to a PlayStation exclusive, CVG reported.
(YouTube Courtesy: Vyktar)
Dragon Quest 8 Launch on Mobile Devices
Square Enix has announced that it will be releasing Dragon Quest 8 Journey of the Cursed King for both iOS and Android devices. It also said that the game will be priced at £13.99/€17.99 ($24), reported CVG.
The story of the game is about terrifying magical powers cursing the king and the princess of a kingdom and the only person who escaped the curse is the player who has to make the journey for restoration of the kingdom. The game will include intuitive touch-panel controls and smooth interface, one-tap turn-based battles, auto-run mode, recruiting monsters and a new alchemy pot.