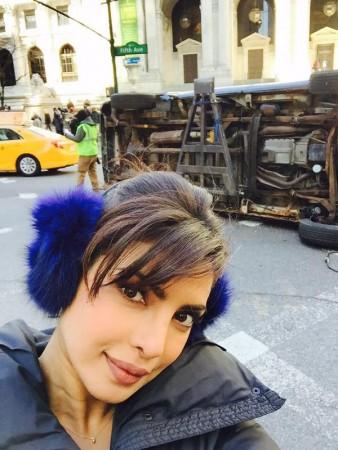 The trailer of American TV series "Quantico" starring Bollywood actress Priyanka Chopra has been released. The 32-year-old actress shared the information on her Twitter handle.
"Quantico" is a story of young, bright and best FBI recruits, each of whom has specific reasons for joining the agency.
Priyanka, who is the first Bollywood actress to play a lead role in an American TV series, plays the role of an FBI recruit Alex Parish. The former Miss World tells how her life changes along with her fellow trainees during their training at the Quantico base in Virginia, after a terrorist attack.
With a mysterious past, the outspoken and dauntless Alex Parish soons find herself arrested for being the prime suspect in the biggest attack on New York City since 9/11. However, she takes it upon herself to unravel the truth behind the attack.
The trailer also features a sex scene between Priyanka and her co-star Jake McLaughlin. Priyanka is there in almost in every scene in the 3.5-minute trailer.
Other artistes in the series include Dougray Scott as Liam, Yasmine Al Massri as Nimah, Aunjanue Ellis as Miranda, Johanna Braddy as Shelby, Graham Rogers as Caleb Haas and Tate Ellington as Simon Asher.
"Quantico" has been written by Josh Safran and produced by Josh Safran, Mark Gordon and Nick Pepper, and is set to hit TV screens this fall.
The TV show has been picked up by ABC Network for it's 2015-16 primetime season.
Here it is The trailer of #Quantico ! Say whaaaa? Me so nervous!!! https://t.co/aI4gj4bFFF

— PRIYANKA Aka Ayesha (@priyankachopra) May 12, 2015
A proud Bollywood took to Twitter to congratulate her.
The #Quantico trailer is jus WOW!Only u could hav done this @priyankachopra so cool! #ProudIndian More power to u!https://t.co/KFOdp5ExjR

— Kriti Sanon (@kritisanon) May 13, 2015
Soooo frikkin Awesome! Proud of u girl @priyankachopra #Quantico https://t.co/LKk3p4CQXx

— SOPHIE CHOUDRY (@Sophie_Choudry) May 12, 2015
Give it up people...@priyankachopra marks her debut on American television in style...bring it on I say...#Quantico https://t.co/951EYJe3bD — Arjun Kapoor (@arjunk26) May 12, 2015
@priyankachopra Now thats called a MAIN STREAM DEBUT - outstanding. Congratulations

— Riteish Deshmukh (@Riteishd) May 12, 2015
Wow!Just look at her! @priyankachopra ur growth makes me beam.Ur fab heart, ur talent n growth go hand in hand.Fab! https://t.co/HTOBpSUd9n — Ashish Chowdhry (@AshishChowdhry) May 13, 2015
As always, @priyankachopra , you da bomb!! This is going to be MASSIVE! https://t.co/l9t7ufoL2N

— VISHAL DADLANI (@VishalDadlani) May 12, 2015
Just saw the trailer @priyankachopra can't wait to watch super proud https://t.co/tDyUtoQ3U7 — Varun SURESH Dhawan (@Varun_dvn) May 12, 2015
@priyankachopra This is awesome stuff ! An intense story and the perfect person to play such a layered character . Congratulations!!!

— Neil Nitin Mukesh (@NeilNMukesh) May 12, 2015
Congratulations supergirl @priyankachopra ... @QuanticoTV looks amazing n u look fab in it! #Bollywood #Hollywood — Neha Dhupia (@NehaDhupia) May 12, 2015