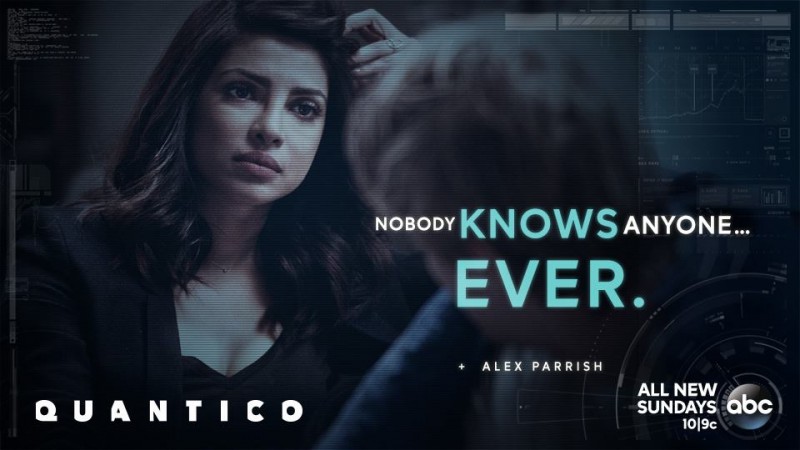 Watch 'The Flash' Season 2 episode 21'The Runway Dinosaur' live:
The terrorist in "Quantico" was finally revealed in Season 2 episode 21, "Right." While the fans know the truth now, the FBI agents may still be chasing the wrong individual in the finale, at least in the beginning.
Spoilers from "Quantico" episode 21 ahead
As NATs Alex (Priyanka Chopra), Shelby (Johanna Brady), Caleb (Graham Rogers) and the others prepare for their graduation, their agent versions struggle to find the terrorist with FBI. Towards the end of episode 21, fans learned that Liam (Josh Hopkins) is the actual terrorist, and that he has been using his position in the FBI to make agents do his bidding.
Miranda (Aunjanue Ellis), who figured out the truth a little too late, was shot dead by Liam. However, as of "Right," agents are under the impression that Miranda is the one orchestrating everything. This is cemented by the knowledge that she lied to Ryan (Jake McLaughlin) about a meeting.
Also Read: Bran Stark could be the key to everything in "Game of Thrones"
It was certainly foolish of a top officer in the FBI to go to a potential terrorist's lair without backup. She might have wanted to give her old flame the benefit of doubt, but she could have at least informed someone where she was going. Now, if Liam chooses to hide the body, no one will be able to figure out that she had nothing to do with the bombings.
Meanwhile, Liam's reasoning for taking on terrorism remains a mystery. He told Miranda that he wanted to "make things right."
Sure, there is a whole lot of politics within the FBI and Liam faults himself and the FBI for the events that went horribly wrong in Omaha, Chicago and possibly other places. However, even his misplaced anger for these incidents cannot account for him turning to terrorism.
Hopefully, fans will get to hear Liam's side of the story in its entirety in the finale episode. Episode 22, titled "Yes," will tie many loose ends on the show, and will also result in the death of a major character. It could be anyone, from Alex to the Amin twins, from Ryan to Shelby, or even Caleb or Simon.
Check out the promo for "Quantico" Season 1 episode 22 shared by tvspoiler via YouTube. The official synopsis for "Yes" reads: "The NATS of Quantico finally reach their graduation day; Alex and her team are faced with the terrorist."
Who do you think will be killed off in the Season 1 finale?