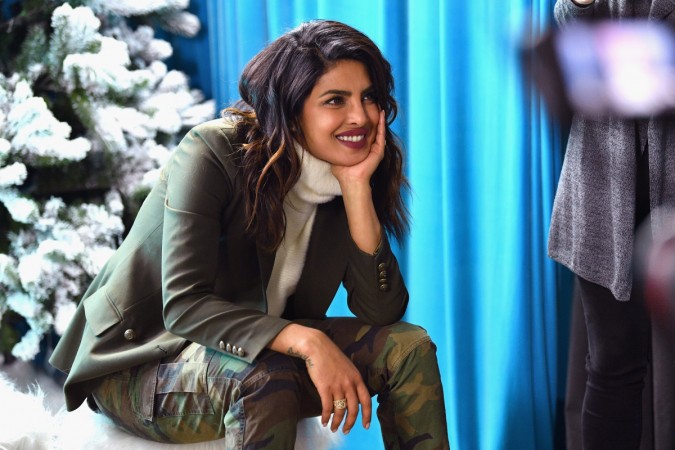 Priyanka Chopra, as we all know, speaks her heart out but this time, she spoke about her heart. Talking to Filmfare magazine, Priyanka Chopra who has always kept quiet about her relationships said, "Right now, I'm single. Of course, I've been double ya! What do you think I'm a saint? But recently, I've been single. Let's just say that!"
When asked if she has dated any co-stars during Quantico, she quickly responds saying, "Not my co-stars because they're all married! But Yes, I have dated someone in America, but nothing went further otherwise you would know about it!"
"Hmmm... I've been single after a really really long time. I get a lot of attention. But I don't know what to do with it. (Laughs) Of course, I like it. I'm a girl and I'm vain," Chopra added when asked why not take it further.
Priyanka asserts, "I'm a serial monogamist. I was in a very committed relationship. But since almost a year, I've been single. I've met a bunch of people. I've gone out with people. I let someone woo me but no... My mind hasn't exploded, not yet!"
Finally, talking about her ambition and the big American dream, she said, "I never had the plan of working in America. I'm destiny's favourite child and I believe that. I believe there's a hand on my head, which guides me in the right direction. What I do is that I recognise the opportunity. Not all have that ability. It might not bang on your door, it might just walk past you. But you should be able to make something out of it. That's called being ambitious! And I'm proudly ambitious. Sadly, ambition has become a bad word! People say, 'Haye woh badi ambitious hai!' But I'm too ambitious and I'm Priyanka Chopra."
Talking about the Filmfare cover, Priyanka Chopra looks stunning in a shimmer blue outfit, striking a pose on the rooftop, with the New York skyline as the backdrop.
She took to Twitter and said: ""Skylines, rooftops and familiar faces... in my home away from home @filmfare @jiteshpillaai @RohanShrestha #NYC (sic)."
Priyanka Chopra also told Filmfare: "I'm the only woman on the Forbes list." Talking about her speech at the Penguin Annual Lecture on women shattering the glass ceiling, she said: "What does a glass ceiling mean? Basically, it's stopping women from progressing. Usually, it happens where women are in minority, where you're told you can't go beyond this. It takes a lot of gumption and courage for women to stand up, as fingers will be pointed at you."
"Unfortunately, even today, when a woman has a voice and an opinion, she's questioned. Like my remuneration is questioned all the time. When boys get crores and crores for their films, they're considered superstars. But when a girl gets it, it's questioned. Why the disparity? Earlier, it was hard to get an opening for a female-centric film but not so today. Girls have broken that ceiling. I'm the only woman on the Forbes list. As much as I'm proud of the fact that I'm standing neck to neck with my male counterparts, why are the other actresses, given how significant they are in Hindi cinema, not there? Again, the glass ceiling! Girls will fight it eventually."
On the professional front, Chopra has two Hollywood films slated to release soon – A Kid Like Jake and Isn't It Romantic. And she is currently busy shooting for Quantico Season 3.