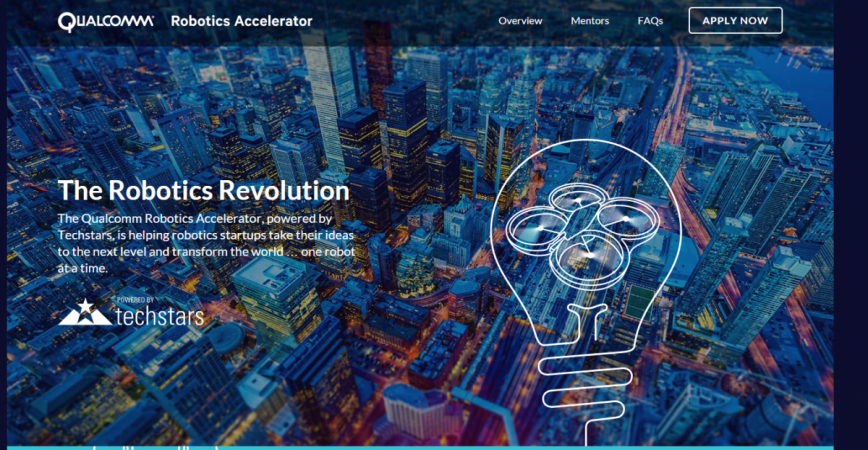 Qualcomm, the telecommunications company has announced a four month mentorship driven startup programme to accelerate next generation development of Robotics and Intelligent machines.
Qualcomm has stated in a press release that ten companies will be selected to participate in the programme, which will venue at Qualcomm's corporate campus in San Diego.
These companies will build next generation smart machines that combine mechanics and intelligent controls, computer vision, sensors, navigation and wireless communications.
The telecommunications company will venture over one million in aggregate for funding the participants. Additionally, the participants will be offered business and technical insight on robotics during the programme. Upon completion of the four-month accelerator programme, companies will be able to leverage Techstars' network of over 3,000 successful entrepreneurs, mentors, investors, and corporate partners.
The Qualcomm Robotics Accelerator, powered by Techstars, aligns with the company's current efforts to develop "smarter", more efficient robotics platforms with more enhanced connectivity built around the Qualcomm Snapdragon processor. These platforms aim to provide an integrated, low power solution for multiple robotics applications.
Qualcomm has already announced to work on Qualcomm Zeroth, a technology that enables robots and smartphones to excel at perceptual pattern matching tasks that can be executed fully on the device.
Last month, Qualcomm demonstrated the Zeroth technology embedded in the Snapdragon Rover, a robot that learned to successfully classify different types of toys, including specific models it had never seen before. It was able to then pick and sort them into different bins.
"The scale and pace of smartphone technology development is having a growing impact on many other technology sectors, and robotics is no exception," said Matt Grob, CTO, Qualcomm Technologies, Inc.
"At Qualcomm, we work to provide entrepreneurs and innovators worldwide with the technologies that will help them transform the way we work, live and play, and this robotics accelerator is just one example of how we are trying to achieve that goal," he added.
Those companies interested in participating in this accelerator programme can submit their application from 17 October 2014 at qualcommaccelerator.com. The application submission process will be open till 22 February 2015. The programme will commence in May 2015 and conclude in September 2015 with a Demo Day, where each team will have the opportunity to present their work to investors, industry leaders, and the community at large.