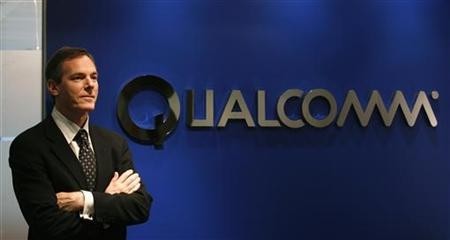 American semiconductor giant, Qualcomm has announced a new-generation 64-bit architecture based chipset for entry level smartphones.
"We are excited to bring 4G LTE to highly affordable smartphones at a sub $150 ( ̴ 1,000 RMB) price point with the introduction of the Qualcomm Snapdragon 410 processor," said Jeff Lorbeck, senior vice president and chief operating officer, Qualcomm Technologies, China.
"The Snapdragon 410 chipset will also be the first of many 64-bit capable processors as Qualcomm Technologies helps lead the transition of the mobile ecosystem to 64-bit processing," he added.
The new Snapdragon 410 is developed using advanced 64-bit architecture 28nm (nano meter) process technology and comes integrated with 4G-LTE radio (World Mode) and Adreno 306 GPU. Once implemented, low-end smartphones with price-tags as low as ₹9,000 will be able to support superior graphics games, applications and high-end cameras, NFC and 4G-LTE (Long Term Evolution), higher performance and efficient RAM management.
In September, Apple became the world's first company to come up with advanced 64-bit architecture based handset- iPhone 5S. The penetration of this high-end expensive device is limited to developed markets like US, Europe and certain parts of the world, but with the announcement of the new Snapdragon 410, low-end mobile vendors in emerging markets in China and India are expected to cash in on the this new chipset to provide feature-rich entry level smartphones.
According to the company, smartphones running Snapdragon 410 will made commercially available in the second half of 2014.
Key features of Qualcomm Snapdragon 410:
- 28nm process technology
- 64-bit Architecture (enhanced performance, efficient RAM management)
- 3G & 4G-LTE (World mode)
- Enables low-end phones to support full HD video playback, NFC (Near Field Communication), 13.0-megapixel camera, superior graphics (Adreno 306 GPU)
- Supports all operating systems Windows, Android and Firefox