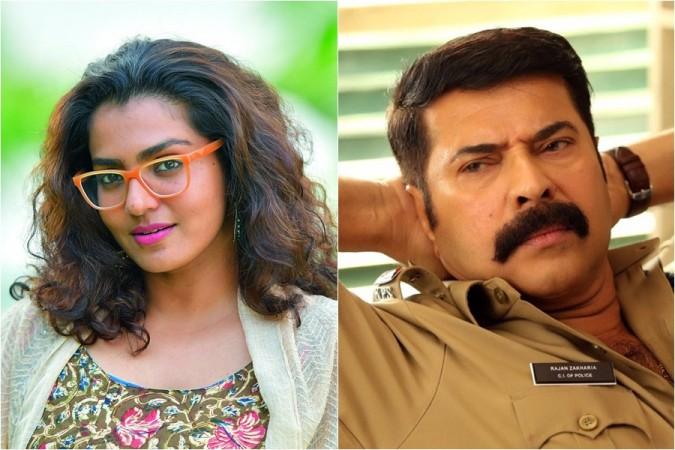 Malayalam actress Parvathy, who is known for voicing her opinion on public platforms, was trolled by Mammootty's fans recently for calling Malayalam film Kasaba, starring Mammootty, as misogynistic. She was speaking at the Open Forum on the sidelines of the ongoing International Film Festival of Kerala (IFFK).
Parvathy said she was totally disappointed to see Mammootty uttering misogynistic dialogues in Kasaba which was released last year.
"With all respect to the makers, the film disappointed me, as it featured a great actor uttering misogynistic dialogues. A lot of people feel and believe that cinema reflects life and the society. When a superstar utters such a dialogue, people obviously tend to think that it is cool to make sexist remarks," she said.
And since speaking against a big superstar or a popular personality has become a big crime in the country, Parvathy's comments outraged Mammootty's fans. They started hurling abuses at the actress on social media, calling her an annoying feminist.
Parvathy, who seemed quite unperturbed by even after receiving the hate comments, clarified her stance on Twitter and said, "Cinema can reflect all aspects of the society and all kinds of people. The good, the bad and the ugly. But no! It cannot glorify injustice and violence as "cool" & "mass" entertainment. I rest my case. This was a good day indeed! Thank you for sharing (and hurling) your thoughts!"
But her clarification on the matter was not enough to silence the trolls which further made Parvathy to post a message on her Instagram which reads, "I respect my seniors for the work they have done. My difference of opinion is not a personal attack of any one person. That is all."
Parvathy, who marked her debut in Hindi cinema with Qarib Qarib Singlle alongside Irrfan Khan, received immense accolades from across. The actress, who hails from Kochi, was embraced by the moviegoers and film gurus for her acting prowess.