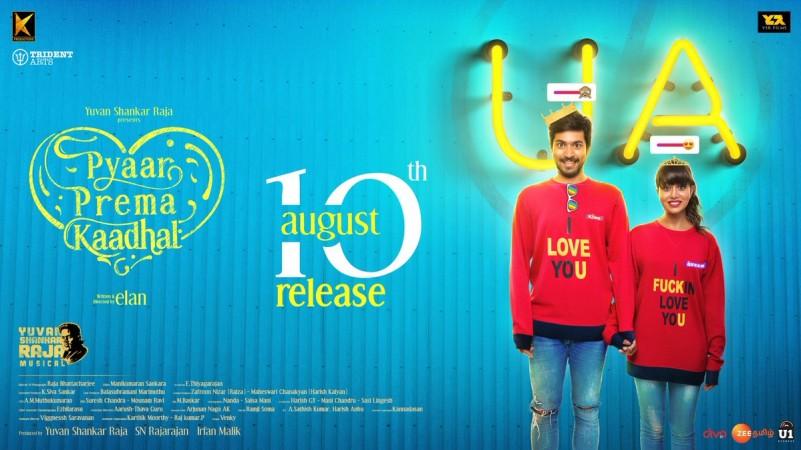 Harish Kalyan and Raiza Wilson, who shot to fame with the first season of Bigg Boss Tamil, have paired up for Pyaar Prema Kaadhal. The movie is directed by Elan, who has supernatural thriller Graghanam to his credit.
Ace music director Yuvan Shankar Raja has turned producer with Pyaar Prema Kadhaal, which has Rekha, Anand Babu and others in the cast, and he himself has taken the burden of scoring music. While Raja Bhattacharjee has handled the cinematography, S Manikumaran has edited the flick.
As the title indicates, Pyaar Prema Kaadhal is a romantic movie laced with comedy. It a new-age love story revolves around innocent middle-class boy Shree (Harish Kalyan) and modern and bold girl Sindhuja (Raiza Wilson).
Shree's mother wants him to tie the knot with a traditional girl, but he falls in love with outgoing and a practical girl. How the drama and romance unfold between the two distict characters is the crux of the story.
Reviews:
The movie, which was supposed to be released on Thursday, August 9, was delayed by a day as a mark of respect to M Karunanidhi, who passed away on Tuesday, August 7. Pyaar Prema Kadhaal has generated a decent buzz among the urban audience. Will the film live up to the viewers' expectations? Find it out in their words here:
Rajasekar: Loved #PyaarPremaKaadhal, a sensible fun romantic drama depicting the modern day relationship. Debutant @elann_t has a winner. Cinematography, music, and lead pair @iamharishkalyan - @raizawilson 's genuine chemistry perfectly worked worked in favor of the film
#PyaarPremaKaadhal 1st half - Surprisingly engaging. Dir @elann_t aesthetically portrayed the relationship between a modern independent girl @raizawilson and an innocent introvert guy @iamharishkalyan. @thisisysr 's music is a big plus.Impressive visuals by Raja Bhattacharjee
Aravinth: Just watched #PyaarPremaKaadhal and wowed by u too @raizawilson and @iamharishkalyan and enjoyed the movie a lot. Well done by @elann_t kudos! Overall a fun filled entertainer. And last but not least @thisisysr nailed it with his BGM and songs.
Kaushik LM: #PyaarPremaKaadhal #PPK 1st half : Typical story arc - first sight, love, friendship, fun, separation.. But the lead pair is terrific; @iamharishkalyan & @raizawilson hold the film together along with @thisisysr's songs.. #HighOnLove & #DopeTrack videos will become very popular!
#PyaarPremaKaadhal #PPK - Pleasant surpriseEnjoy & Chillax.. A refreshing film on love and relationships.. The 2nd half moves at a good level (a bold live-in relationship, ambitious heroine, 'mommy's boy' hero... ) @elann_t @thisisysr @iamharishkalyan @raizawilson have a winner
Highly convincing film debut for @raizawilson - #PyaarPremaKaadhal #PPK... She's gonna become a star for sure.. Performance, looks and style - she has it all!
Ramesh Bala: #PyaarPremaKaadhal / #PPK 1st Half : A nice, breezy romantic comedy..
@iamharishkalyan is a shy guy who believes in traditional romance..
@raizawilson is today's gal.. Doesn't mind having boy friends with benefits..
Their conflict is interestingly told so far..
#PyaarPremaKaadhal / #PPK [3/5] : @thisisysr songs and BGM are the heart and soul of the movie..
Dir @elann_t has certainly avoided most Tamil Cinema romantic cliches and delivered a fresh romantic movie..
#PyaarPremaKaadhal / #PPK [3/5] : @iamharishkalyan 's best performance till date..
@raizawilson makes a confident acting debut..
#PyaarPremaKaadhal / #PPK [3/5] : A good romantic movie.. Traditional values guy vs Modern outlook gal..
The conflicts that arise are interestingly narrated..
Nirojan: Watched #PyaarPremaKaadhal good movi.. awesome acting by @iamharishkalyan nd @raizawilson sentiment scenes worked.. makes me cry @thisisysr bgm nd songs ❤️ #MustWatch
Arulraj: 1st half over Youthful Movie...
Lot of fun and love...
Title card #Yuvan name sema
Sounds parakkudhu...
Song visual and bgm brilliant...
Interval scene sema...
#Dope song situation Perfect
I feel
Waiting for 2nd half
Men 90's kids love story
#PyaarPremaKaadhal
Dhruva Natchathiram: Interval : Very Amateur. Nalla interestinga eduthirukalam but oru maathiri Dull feelinga poguthu . Harish nd Raiza looks but acting #PyaarPremaKaadhal
TrendsWood: #PyaarPremaKaadhal 3.25/5
- Yuvan Pirichi Menjitaaru... BGM, Songs
- Excellent Performance by @iamharishkalyan & @raizawilson..
Especially Emotional Scenes @iamharishkalyan
- Dialogues
- Friends with Benefits ✌
- Climax
- **** U
R.Vageesan: #PyaarPremaKaadhal - interval
Sema fresh youthful movie..
1st half nalla eruku younger sema ya like pannranga... @iamharishkalyan brother your acting theatre sema clapps & vesel.. @raizawilson wow..... @thisisysr Music movie ku periya plus..
Waiting 2nd half...
Jeya Suriya: Half way through #PyaarPremaKaadhal - Complete FUN!
So far so Engaging!
#PyaarPremaKaadhal - A fun filled emotional ride delivered for the Youth!
2K Kids would connect it more. High chances for them to consider it their Raja Rani or Minnale!