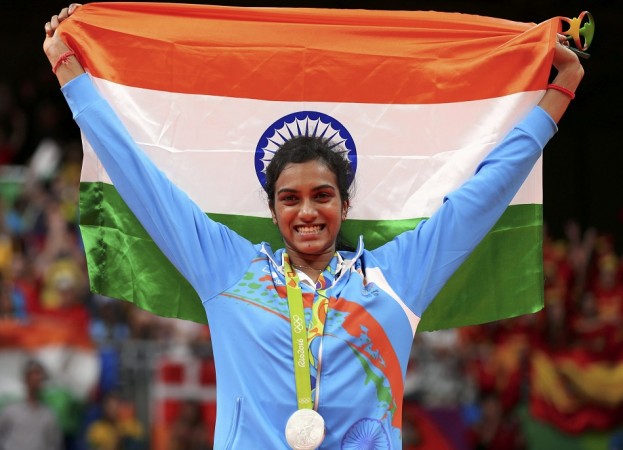 PV Sindhu has won silver in women's singles badminton at Rio Olympics 2016. Her dream to win the gold medal was shattered by Spain's Carolina Marin in the final. Despite losing the match, she created history as she has become the first Indian woman to win a silver at the quadrennial event.
Read - Full Report on the Final Match | Twitterati trolls Shobhaa De after PV Sindhu clinches a Medal
The badminton player has now become the fifth Indian woman to win a medal at the Olympics. Karnam Malleshwari (bronze medal in weightlifting in the year 2000), MC Mary Kom (bronze medal in boxing in the year 2012), Saina Nehwal (bronze medal in badminton in the year 2012) and Sakshi Malik (bronze medal in wrestling 58kg freestyle in 2016) are the four others, who made the nation proud with their medals.
PV Sindhu's performance has been highly praised by the people across the nation. Politicians, sportsmen and film personalities have congratulated her on Twitter. Below, we bring to you celebrities' comments:
Salman Khan:
Saw d finals on tv with my mom and told her I hv a picture with Sindhu . Proud .
Rajinikanth:
Hats off to you #PVSindhu .... I have become a great fan of yours ... Congratulations !
Amitabh Bachchan:
#PVSindhu .. look what you did .. you had 1.25 billion people rooting for you !! That is no mean achievement ! Proud of you !!
Karan Johar:
The golden girl!!!! Huge congratulations to the #PVSindhu ....India's heart beams with pride today!
Mohanlal:
Again... Another daughter of our country presented a golden moment with a silver medal. Congratulations Sindhu for making our country proud.
Vijay:
Congratulations PV Sindhu for making the Nation Proud with a Silver Medal. Wishes to the other Indian Participants and Winners too! :)‪#‎Rio2016‬
Anupam Kher:
Landed back in Mumbai to the great news of #PVSindhu's Silver medal. Will be proud to take selfies with both Sakshi & Sindhu.:) #Icons
Mahesh Babu:
Congratulations PV Sindhu on winning Silver for India at ‪#‎Rio2016‬! What a gallant display of sportsmanship.. We r all super proud :)
Anushka Sharma:
What a game !Congratulations @Pvsindhu1 on d Silver.Much much respect 4 ur spirited performance & sportswomanship. #PVSindhu
SS Rajamouli:
PV SINDHU..WE ARE PROUD OF YOU...YOUR PERFORMANCE IS WORTH MORE THAN GOLD...
Boman Irani:
Satellite photos will show an entire nation giving you a standing ovation. @Pvsindhu1 You showed class, grace and grit!
#Rio2016 #PVSindhu
Shreya Ghoshal:
Proud proud!! Our champion does settle for a silver but she is worth many golds! She is our girl! Indiaaaa be proud of ur daughter #PVSindhu
Alia Bhatt:
You go girl!!!!! Making EVERY one of us proud!!!! Congratulations #PVSindhu #SinduWinsSilver #Rio2016 shineeee onnnnnnn ⭐️⭐️⭐️
Twinkle Khanna:
She played magnificently and made India proud #PVSindhu #GirlCrush
Siddharth:
What a great day for Indian sport. Young girls and boys everywhere have a new idol. And this one is just getting started. Salute #PVSindhu
Pooja Hegde:
Loving this so far! The determination on @Pvsindhu1 's face is killer...asli Sindhu Ma toh yeh hain #Olympics2016 #GameFace #PVSindhu
Kajal Aggarwal:
Congratulations #PVSindhu! You won more than just a medal and inspired an entire nation! So proud of you ..
RAAI LAXMI:
Epic !!! Game!true champion #PVSindhu #fighter u won billions of hearts today #silver #Rio2016 u make us proud✊
Sivakarthikeyan:
#PVSindhu Congratulations and Big thanks for making us proud Sister
Navya Nair:
Proud of u P V Sindhu (y) <3 ....This Silver equals thousand Gold for us ...A super woman from Hyderabad after Sania mirza and Saina nehwal.