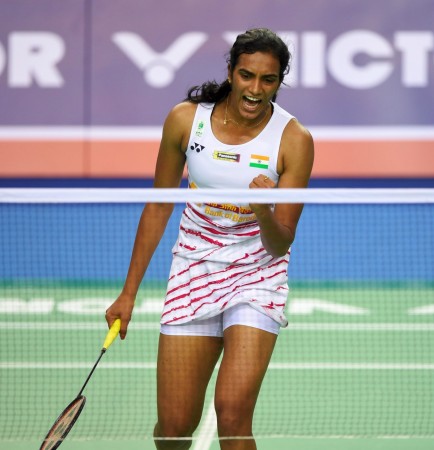 PV Sindhu created history in Seoul on Sunday, September 17 as she became the first Indian to win the Korea Superseries badminton tournament.
The world number four also avenged her BWF World Championships gold medal match defeat with a 22-19, 11-21, 21-18 win over lower-ranked Nozomi Okuhara of Japan in the 83-minute final, thereby clinching the third Superseries title of her career.
The hype around Sunday's badminton final between fifth seed Sindhu and ninth seed Okuhara was at an all-time high following their epic duel in the Glasgow world meet final last month. The two shuttler had pushed themseleves to the limits in a 110-minute long battle that enthralled badminton fans across the globe.
As it turned out, the match lived up to its billing as both the shuttlers once again went toe to toe in a bid for supremacy.
Sindhu saves two game points to claim early advantage
Sindhu, who headed into the match after playing back-to-back draining encounters (three-game quarter-final and semi-final), showed nerves of steel when she saved two match points before taking the first game 22-20.
The Indian shuttler used the drift at the SK Handball Stadium to good effect as Okuhara was struggling to trace the trajectory of the shuttle.
World champion fights back
However, in the second game, the reigning world champion was at her best, decieving Sindhu with her trademark drop shots and impeccable net play. Okuhara turned on the attacking mode and tried to finish the shuttle early and her tactics worked out well as she clinched the second game 21-11 in no time.
Sindhu shines with never-say-die attitude

Sindhu was clearly the more fatigue-affected shuttler of the two as she was stretched by her quarter-final and semi-final opponents. However, she managed to fight on even as the final went to the decider on Sunday.

The key was to get the early lead in the decider and Sindhu did exactly that.
The Indian shuttler also displayed extreme fitness levels when she won the longest rally of the match -- 56 shots -- towards the end of the match. Sindhu dropped to the ground exhausted, but she had the legs to recover and make sure she crossed the finish line.
Sindhu's next stop will be in Japan as she will be taking on local hope Minatsu Mitani, whom she defeated in the quarter-final last week, in the first round of Japan Open Superseries, starting September 19.