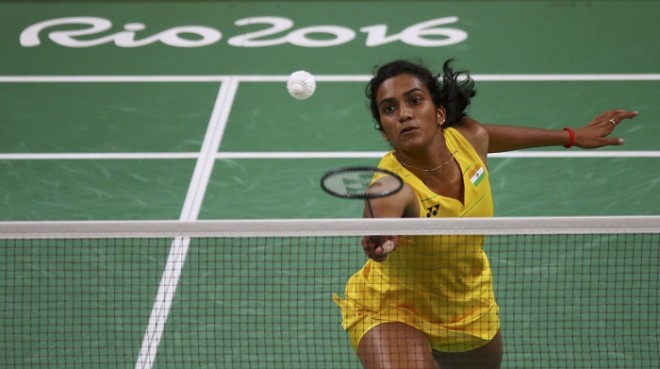 PV Sindhu came up with a stunning performance in the semifinals against Nozomi Okuhara to set up a date with Carolina Marin for the gold medal match. She was in complete control of the match, which lasted 49 minutes, and the Indian shuttler defeated the Japanese in straight games, score reading 21-19, 21-10. With this win, Sindhu has been assured of a medal in her maiden Olympics.
Click here to read how Sindhu defeated Okuhara to reach the Olympic finals.
9:23: Sindhu is just two points away from the Olympics final. She has taken nine straight points and makes it 10, after a deft play at the net. Sindhu reaches the final with a characteristic smash, after clinching the second game, 21-10.

Here is the schedule for the final, including her opponent.
9:20: Okuhara has hit it wide, and Sindhu leads 17-10, and makes it 18-0, with the Japanese coming under pressure.
9:16: After the interval, Sindhu seems to be in a hurry as she collects points like never before in a match. Sindhu, with a brilliant game at the net and baseline, has opened up the lead to a mammoth six points, 16-10. This is stunning from the Indian shuttler.
9:08: Sindhu has increased the lead to 11-10 in the interval.
9:06: But, Okuhara comes back and takes some straight points. Sindhu trails 4-5
9:02: Sindhu is unstoppable as she pushes Okuhara to the baseline and unleashes a powerful smash to earn solid point. 3-0.
9 p.m: Okuhara smashes the shuttle at the net, and with it Sindhu has won the first game, 21-19.
8:58: With Sindhu leading 19-18, but this first game is not yet over. Okuhara is not giving up.
Sindhu is playing some brilliant badminton, which has helped her inch closer to the first game, 18-15, but Okuhara earns a point, makes it 18-16. Wait, two straight points and the score reads 18-17. The Japanese is clawing back.
8:55: A controlled shot from the baseline to make it 15-12, but follows that with a wide shot, 15-13. Misjudgement from OKuhara, and Sindhu opens up three-point lead again, 16-13.

Okuhara smashes the net, and Sindhu leads 13-10. Another unforced error, and Sindhu leads 14-10, and hits hits wide to make it 14-11.
8:49: Now, Okuhara is looking good and taking the game to the Indian, with two straight points, Sindhu leads 12-10
8:47: Two back-to-back points for the Japanese, but SIndhu hits a perfect net shot to earn an important point. This is brilliant from the Indian, who leads 12-8
8:45: Sindhu goes into the first interval with a 5 point lead as the score reads 11-6. The Indians in the crowd are having a gala time.
8:44: You beauty. The longest rally of the match finished by Sindhu with a wonderful drop shot to take 9-6 lead. Sindhu is dictating terms and is looking on her zone as she drills another one down the line. That is power for you from SIndhu, who increases the lead to 10-6.
8:40: Sindhu is looking too good as she plays a drop shot to perfection, but Okuhara hits a smash to earn one point. Sindhu leads 8-5, and the Indian hits the shuttle at the net to make it 8-6.
8:39: Poor judgement from Okuhara as she lets the shuttle drop, and it is in. The match is interesting already, with Sindhu leading 5-4, and increases the lead to 6-4 with an amazing smash.
8:37: Another point as Sindhu hits a wonderful cross court drop shit, 4-1, but Okuhara gets one point, with Indian hitting the net. Sindhu leads 4-2.
8:35: 1-1 as Sindhu forces Okuhara to hit wide. The Indian follows it with another two points. Sindhu leads 3-1.
8:34: Sindhu to serve first, and Okuhara hits a smash to earn first point
Both the semifinalists are out in the court, and the Indian fans are already chanting "Indiaaaa...Indiaaaaa...Indiaaaaaa......", and the match is about to start.
Sindhu has played some amazing badminton in Rio Olympics so far, defeating top stars like Tai Tzu Ying and Wang Yihan. Now, she will be keen to come up with another stunning performance against Nozomi Okuhara in the semifinals, and assure India of another medal in Rio.
8:24: GB's Ellis and Langridge has won bronze. Now, the wait is finally over for Indian fans. Sindhu's match next. Are you ready???
8:08 p.m: With the men's doubles bronze medal match going to the decider, the wait for women's semifinals has got a bit longer. Until then, watch the doubles match, where Great Britain's pair of M. Ellis and C. Langridge is playing extremely well, and might pip China's B.Chai and W. Hong for bronze.
Hello everyone. Welcome to International Business Times, India live blog coverage. This is Ashim Sunam here, and I will provide you with all the thrills and spills from the PV Sindhu vs Nozomi Okuhara Rio 2016 semifinals . We are just few minutes away from the mammoth encounter.
The semifinals will take place after the men's doubles bronze medal match.