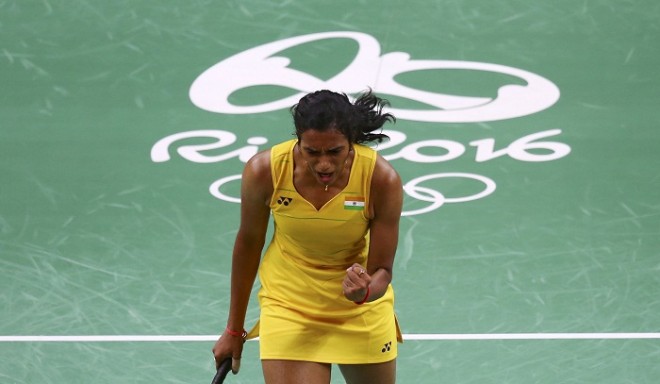 World champion Carolina Marin showed her class, and came back from one game down against PV Sindhu to win the all-important gold medal match in the women's final in Rio Olympics. Despite a great effort from Sindhu, Marin took her game to the next level in the seocnd and third game to emerge victorious. Marin won the gold medal, with score reading 19-21, 21-12, 21-15 in a match, whichlasted 83 minutes.

However, the Indian should be proud of her performance as she played some of her best badminton in Rio Olympics to take silver medal.
9:01: Sindhu wins silver, while Marin, deservedly, won the gold medal.
9 p.m: Marin plays some important points beautifully at the net, and makes it 19-14. Another drop shot to make it 20-14. Sindhu earns one point, but it is going to be difficult for the Indian to win it from here. Can she? Marin is just a point away from the gold medal, and the world number one has become an Olympic champion taking the final point of the match. She wins the gold medal contest, 19-21, 21-12, 21-15.
8:53: Sindhu hits a powerful smash to make it 13-16, still three points behind is the Indian, who has reduced the lead to two points. 14-16. Big smash from the Spaniard, who stretches the lead to 17-14.
8:51: Sindhu is not going to make it easy for the world champion, but Marin, and her footwork, has been stupendous in the final. Marin hits a smash to make it 15-11, and the Spaniard is inching closer to the gold medal as Sindhu hits it wide. Marin has 16-12 lead.
8:46: Marin picks up two important points as she increases the lead to 13-10. Marin has come all guns blazing after that short break.
8:44: Sindhu is playing some amazing badminton as she wins an incredible rally to make it 10-10. The world number one goes into the final break with a one-point lead, as Sindhu hits it long. Marin leads 11-10.
8:43: The match is becoming very interesting as Sindhu has won four straight points, and just trails by one point, 8-9. Nice judgement form Marin, who earns a point after a long time. Sindhu trails by two, and the Indian is pumped as she hits an amazing smash down the line to reduce it to one point deficit.
8:40: Marin is not allowing Sindhu to get involved in long rallies. She is killing it early, both from the net and the baseline. Marin opens up 5-point lead, 9-4. Sindhu gets three quick points, still trail 7-9. Brilliant from Sindhu.
8:36: Brilliant smash from Sindhu, who shows encouraging signs. Marin leads 6-3.
8:35: Marin has taken her game to the next level, and is having a gala time. Her movement has once again caught Sindhu, who trails 1-5. Sindhu's body language is not good, her head is quite down. Sindhu finally wins a point as Marin misses her drop shot, Marin leads 6-2.
8:34: Marin once again starts brilliantly, taking a 3-1 lead as Sindhu is finding it difficult to penetrate world champion's defence. The Spaniard rolls the wrist brilliantly to keep the shuttle down straight away. Marin leads 4-1.
8:29: Sindhu hits her smash wide, and Marin is just two points away from the second game 19-11. Marin is made to work for her points as she makes an error at the net, but follows it with an amazing drop shot to help her earn game point, and clinches it 21-12. The final goes to a decider.
8:25: Despite a brave effort from Sindhu, who is receiving massive support from the Indian crowd, the shuttler is troubled by Marin, who plays an amazing cross court shot to make it 18-9. Marin is off balance, and hits the shuttle wide. Sindhu is still in the hunt for the second game, but trailing by seven points.
8:20: Marin opens up an eight-point lead as she enjoys 14-6 lead, but Sindhu earns one point from a strong defence. Sindhu needs to push Marin more. World champion from the front court, does what she does best, drill a smash. Marin leads 15-7.
8:16: Another comeback? Sindhu wins two straight points. Marin's short smashes are troubling Sindhu, who trails 4-12, and makes it 5-12. But Marin is on her zone in the second game, with 13-5 lead.
8:14: Sindhu has to push Marin back. Marin is waiting at the net, and unleashing her quick shots. She has run into a 11-2 lead, and Sindhu looks nervous now.
8:11: Though Sindhu earns her first point of the game, Marin has just consolidated the lead to 6-1, and the world champion is shrieking after each point. Marin's movement has been all class in the second game, as she in gaining confidence, taking a healthy 8-2 lead.
8:08: Three points on a row from Marin, who is looking amazing at the net. The Spaniard has taken a 3-0 lead, and further makes it 4-0 as Sindhu cannot lift Marin's drop shot.
8:04: Wow. Game point for Sindhu, who has earned four straight points. You beauty, Sindhu has shown some great character to make an incredible comeback to win five straight points now. Sindhu wins it 21-19 as Marin is forced into an error.
8:03: Beautiful drop shot from Marin, and follows it with an easy smash, leads 19-16. Can Sindhu make a comeback? Yes, she can, reduces it to two points, with Marin hitting the shuttle long and wide. Wait, Sindhu earns another point as Marin cannot connect properly with the shuttle. Still, Marin leads 19-18.
7:58: Two straight points, and Sindhu reduces the lead to 16-15. Indian just a point away, but Marin hits a body smash, takes 17-15 lead. What a rally, longest of the match, 49 shots played. Marin leads 17-16.
7:56: Sindhu comes back, and the deficit is reduced to two point. What a game so far. Marin increases the lead to 16-13.
7:55: Smashes into Sindhu's backhand, and the Indian is not returning well. Is it Marin's power or Sindhu's nerve? Now, Marin goes for another smash, hits the net, still leads 15-12.
7:53: Though there is decent Indian crowd in the venue, Marin seems to have the local support. Brilliant smash from Marin, and Sindhu fails to return. Marin leads 14-10.
7:52: Sindhu needs to hit more body smashes, and she does exactly the same, which helps her earn one point. Sindhu is gradually coming back, as she has reduced the lead to 9-12.
7:48: Marin takes a five point lead, going into the first interval of the opening game. Marin leads 11-5.
7:48: Marin hits it long, good judgement from Sindhu, who is still trailing, 5-8. The Spaniard with another smash to make it 9-5.
7:45: Sindhu serves it long, and Marin is still with the lead 6-3. Marin has been brilliant so far, pushing Sindhu to all corners of the court. But, this is what Sindhu loves to do, drills a huge smash, and earns a point. Marin leads 7-4.
7:43: The match is already really tight as it is now tied at 2-2, and the Spaniard takes lead at 3-2. Marin, with her quick movement, takes 4-2 lead with brilliant play at the net. Again, a wonderful drop shot from Marin, who leads 5-2.
7:40: Here we go, and the wait is finally over. Sindhu vs Marin. Who will have the precious gold medal around the neck after the finals? Marin wins the first point, and does Sindhu, makes it 1-1.
7:38: Both the players -- Sindhu and Marin -- have walked onto the court, and we are just a few minutes away from the finals.
7:20: I guess, in the next 20-30 minutes, the women's final should start.
7:10: Sindhu vs Marin final will only be take place after this second men's semi-final between Viktor Axelsen and Chen Long.
6:50: The Olympics final is always huge for any athlete, and for Sindhu, who is making her debut in the quadrennial event, it is the biggest match of her career. She might have played some major Superseries matches, but nothing ranks even close to this gold medal match.
6:40: Are you ready? We are just some moments away from the final...Do I need to ask the question - gold or silver???
6:25: Right now an amazing game of badminton (men's semifinal) between Lin Dan and Lee Chong Wei has come to an end. The Malaysian clinches a thrilling three-game affair, score reading 15 -21, 21-11, 22-20. Lee Chong Wei marches into the finals.
6:05: Ever since Sindhu grabbed the finals spot, there has been a huge interest in India for the gold medal match.
People from different walks of life are supporting Sindhu, and if the Indian woman wins it for India, it could be a landmark achivement -- youngsters will have a reason to choose badminton over other sports.
5:50p.m: Sindhu has become the first Indian woman to reach the Olympics final in badminton, and the way she has played so far in Rio, the world number 10 can make it memorable, winning the all-important gold. Sindhu has to be on top of her game against world champion Carolina Marin, who knows how to win big titles. No wonder she is world number one.
Here is an interesting profile on Marin
Hello everyone. Welcome to International Business Times India's live blog coverage. This is Ashim Sunam, and I will provide you with all the thrills and spills from the Rio Olympics final, featuring India's PV Sindhu and Spain's Carolina Marin in women's singles (badminton) event.
The final is expected to be a close encounter, with both shuttlers coming into the gold medal match with some impressive wins in the competition so far. Both the players have their strong points, but they will also have to cope with pressure, despite their experience, as the Olympics is something extra-special, which happens only once in four years.
The all-important final will take shape after the men's semi-final between Viktor Axelsen and Chen Long.