She is the superstar of Indian badminton. Her fame is not just limited to the cricket-crazy country but she can also be found on the billboards in China, the powerhouse of world badminton.
PV Sindhu, one of the most popular shuttlers going around, is now among the top 10 highest-paid female athletes in the world. She is the seventh on the list, which has eight tennis stars.
Sindhu's earned $8.5m (Rs 60 crore approx.) over the last one year and is above world number one women's singles tennis player, Simona Halep, according to a list published on Tuesday by Forbes.
23-time Grand Slam champion Serena Williams is comfortably on top of the list with total earnings of $62m. The 36-year-old superstar earns the most from endorsements when it comes to female athletes — an unmatched amount of $18m.
Tainted tennis superstar Maria Sharapova is fifth on the list, behind Caroline Wozniacki, Sloane Stephens, and Garbine Muguruza.
Nonetheless, the Russian athlete is next only to Serena when it comes to earnings from endorsements. Despite not having had the best of runs on the tour since her return from doping ban, the 31-year-old pockets $9.5m from endorsements.
Sindu is next on the list when it comes to endorsements with earnings of $8m in the last year.
"The 23-year-old has a robust sponsor roster with Bridgestone, Gatorade, Nokia, Panasonic, Reckitt Benckiser and a half-dozen other brands," according to Forbes.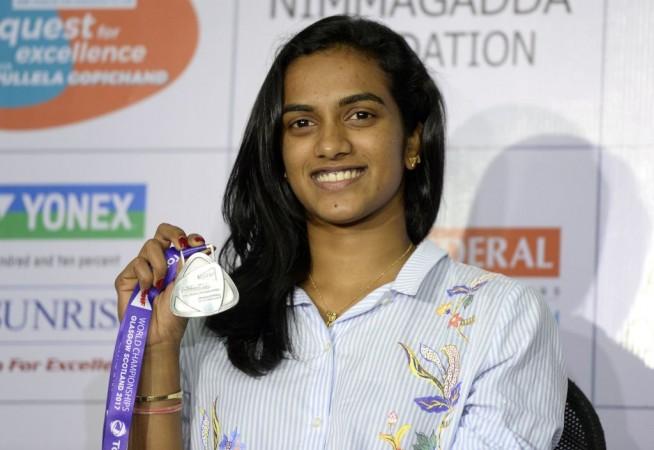 Sindhu's position among the elite in the world is not surprising, given that she has emerged as one of the most marketable stars in the cricket-crazy country.
Ever since Sindhu rallied against the odds and finished on the podium at Rio Olympics, she has become a household name. Consistent performances on the tour and two world championships medal in successive years has only helped "brand Sindhu".
The 23-year-old, ranked number three on women's singles badminton charts, will be hoping to win the elusive gold medal at the ongoing Asian Games in Jakarta and Palembang.
Top 10 highest-paid female athletes 2018: Forbes list
1. Serena Williams: Total earnings: $18.1m
Prize money: $62,000, Endorsements: $18m
2. Caroline Wozniacki: Total earnings: $13m
Prize money: $7m, Endorsements: $6m
3. Sloane Stephens: Total earnings: $11.2m
Prize money: $5.7m, Endorsements: $5.5m
4. Garbine Muguruza: Total earnings: $11m
Prize money: $5,5m, Endorsements: $5.5m
5. Maria Sharapova: Total earnings: $10.5m
Prize money: $1m, Endorsements: $9.5m
6. Venus Williams: Total earnings: $10m
Prize money: $4.2m, Endorsements: $6m
7. PV Sindhu: Total earnings: $8.5m
Prize money: $500,000, Endorsements: $8m
8. Simona Halep: Total earnings $7.7m
Prize money: $6.2m; Endorsements: $1.5m
9. Danica Patrick: Total earnings $7.5m
Prize money: $3m, Endorsements $4.5m
10. Angelique Kerber: Total earnings $7m
Prize money: $3m, Endorsements: $4m