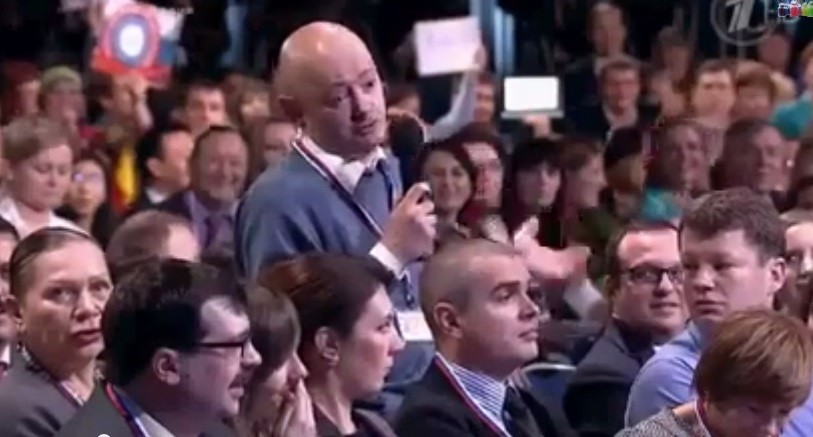 Russian President Vladimir Putin thought a slurring journalist was drunk when the latter asked him a question on Thursday's annual press conference, but it was later revealed that the person was a stroke survivor.
The journalist, who introduced himself as Bladimir Manatov slurred his words and appeared to talk uncomfortably as he spoke to the Russian president during the televised event in Moscow on Thursday. In what has been widely referred to as lack of humour, the President quipped that the journalist had been drinking.
However, it was later reported by various sources that Manotov is a stroke sufferer, and had once suffered a head injury.
As the Q&A session was drawing to a close, Putin's press secretary, Dmitry Peskov announced that reporters from Turkey and Georgia would then be allowed to ask questions. But the microphone was suddenly taken by Manatov – appearing to ignore the instructions.
"But you're not from Turkey," Peskov told the journalist.
"No, I'm not. That's just the way it is," prompting a round of laughter in the packed room.
Manatov appeared to take some time to think about the question he intended to ask and was talking slowly and kept losing his focus from the subject, the Russian channel RT reported.
The journalist asked a question about Kvas, a traditional Russian brewed drink with a small percentage of alcohol content produced in Kirov in large quantities. The drink is denied access to Auchan and other big retail chains, Mamatov said in muttering voice.
"I feel you had a bit of kvas yourself in the morning," Putin joked, without realising that the journalist was not drunk as he thought. Russian publications like RT, however, defended that the president was only sharing the general perception of everyone in the room.
"I wanted to give you a try (of our kvas), but the security didn't allow me to bring anything in," the journalist told the president adding: "We make a lot of this kvas. It's very good. We've made it for a long time."
"I can see that already," Putin replied to the man, prompting another round of laughter inside the conference.
As Twitter members started making jokes about the so-called "drunk" journalist, Mamatov's collegues from 'The Reporter newspaper' – where he worked – quickly stood up for their scribe.
"He wasn't drunk really. He has delayed speech because he suffered two strikes and a head injury," a fellow journalist working in the organization told Russian News Service.
The press conference gaffe has, however, resulted in tenfold increase in demand for the drink, Kvas , reports say.
Watch the video below: