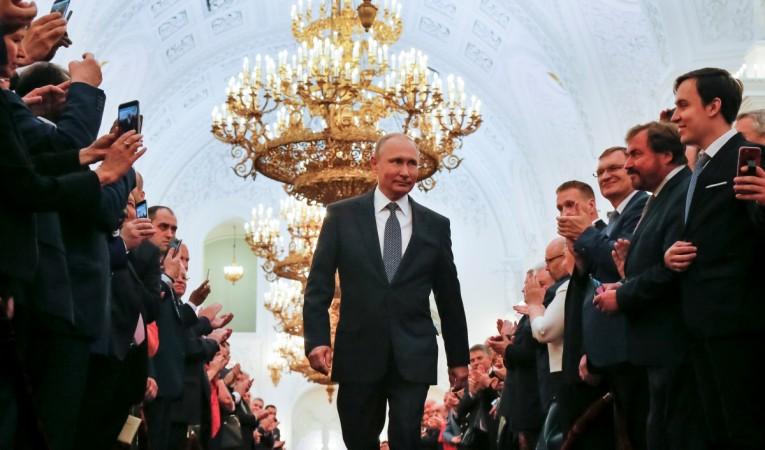 Joel Rosenberg, the Christian author of the book 'The Kremlin Conspiracy' has claimed that Russian President Vladimir Putin will trigger apocalypse on earth and pointed out some crucial signs which will happen on earth before the apocalypse days, citing Bible. One among them is the rise of an evil leader in Russia, he claims.
Is Vladimir Putin an evil leader?
Rosenberg made these remarks on the internet talk show, 'Pure Talk'. During the talk, the author has claimed that Vladimir Putin is actually the God of the land of Magog, the evil entity who will wage war against God. The author made it clear that the two world wars which hit the world in the 20th century, the rebirth of Israel, and the increasing global chaos are all the signs of an imminent apocalypse.
Rosenberg argued that the cruelty against Christians have seen a drastic rise in the past few years, and it is another end sign which is mentioned in Bible.
"The one-day, future evil leader of Russia is going to form an alliance with Iran, Turkey and some other hostile countries to come and surround and attack Israel in the last days. He came from a land named Magog. Vladimir Putin is more dangerous to the United States," said Rosenberg during the talk.
Rosenberg's words coming true?
Adding heat to the claims made by Joel Rosenberg, it has been reported that Russian Su-34 aircraft intercepted Israeli F-16 fighter jets over Libyan airspace. Several videos were released on the internet showing Russian aircraft flying over Lebanon, but Moscow denied all these allegations.
The Russian Defense Ministry said that the rumors surrounding the interception of two Israeli F-16s by a Russian Su-34 in Lebanese airspace are absolute nonsense.
"The Su-34 multirole bombers, which belong to the Russian air group in Syria, are not used for flights to intercept aerial targets and do not perform tasks in the airspace of Lebanon," added the Defence Ministry, Express UK reports.
David Meade joins the party
Nibiru forewarner David Meade has also predicted that Russia is capable of wiping out the United States in less than 30 minutes. He revealed that Russia's arsenal is loaded with missiles with unlimited range and trajectories.
Meade further added that the American secret agency CIA is aware of Russian missiles like RS-28 Sarmat that could bring about massive destruction in the US mainland.