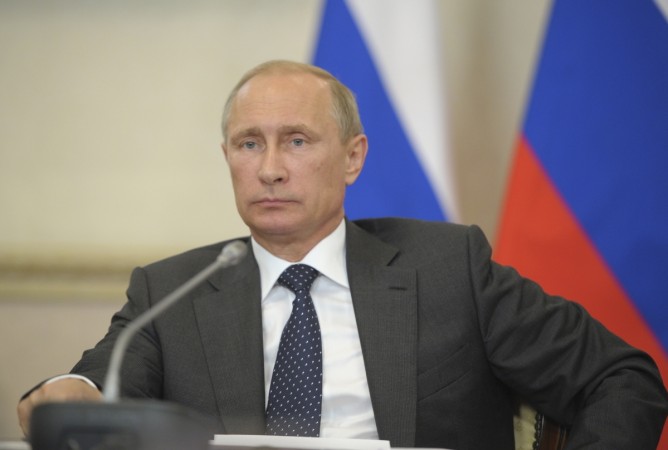 Russian President Vladimir Putin has ordered his government to respond to the sanctions levied by the West against its alleged support for the pro-Moscow separatists in East Ukraine.
The retaliatory measure comes as Poland said earlier a renewed build-up of Russian troops on Ukraine's borders could mean Russia was planning a possible invasion.
Russia may limit or ban flights over Siberia by European carriers bound for Asia, in an action that tends to give a tough response to the western sanctions, the Moscow-based Vedomosti newspaper reported on Tuesday, citing people familiar with the matter.
Putin's pledge came amid renewed geopolitical tensions over the Eastern Ukraine, with Moscow demanding "an international humanitarian mission" for the area where the Ukrainian forces are seeking to crush the pro-Russian militants.
Kiev fears that Moscow could send in troops in the area as peace-keepers and thereby invoke humanitarian crisis, as Russia called an emergency meeting of the UN Security Council to discuss the issue.
In his first comment on the toughest sanctions imposed on Russia by the West since Cold War, Putin said he had asked Kremlin to prepare retaliatory moves.
"Political instruments of pressure on the economy are unacceptable, they contradict all norms and rules," Putin said Tuesday, during a meeting with Alexey Gordeev, governor of the Voronezh region near Ukraine, Business Week reports. He added that any retaliation "must be done extremely carefully to support producers and avoid harming consumers."
Putin has shown no sign of yielding to the Western pressure ever since the UN and the US tightened sanctions last week, with Russian troops reported to be gathering in huge numbers on its neighbour's border in what has been called the biggest military build-up since they troops were withdrawn from the area in May.
"Unfortunately, Russia has restored its combat-readiness on the Ukraine border with more than a dozen battalion-sized combat groups," Polish Foreign Minister Radoslaw Sikorski, told the local television channel, TVN24 BiS.
"There's a lot of equipment. This is the sort of things one does to exert pressure or to invade," he added.
Meanwhile, Russian newspapers are reporting that officials were considering either limiting the number of trans-Siberian routes European airlines can take or banning the European airlines from flying over the trans-Siberian routes altogether.