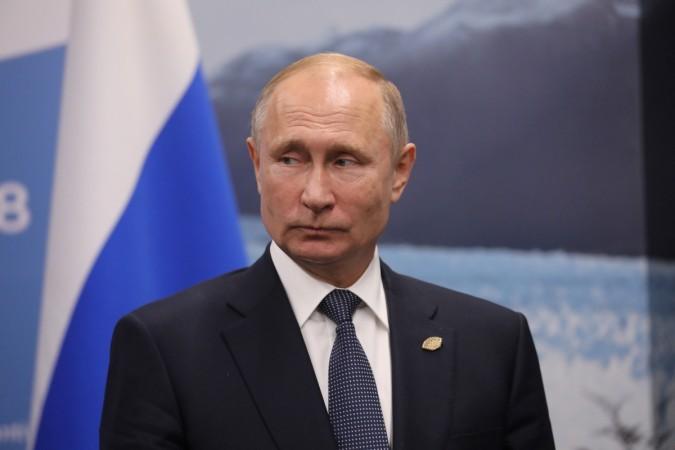 Russian president Vladimir Putin may not have issues with the media covering his leisure activities such as hiking and horse-back riding, but he is known to be extremely protective of his personal life and his family.
However, he now seems to be gradually shedding this protective image, and even hinted that he might just be ready to tie the knot again.
During his annual press conference, the Russian president spoke on many issues such as Brexit, international relations, and the state of the economy. However, his remarriage is something that has now garnered the maximum attention.
The 66-year-old spoke of it when a journalist asked him if he had any plans to marry again. To this he replied, "As a decent person, I will have to do that sometime," according to the Agence France-Presse. However, he said no more and also did not reveal who the woman was.
The Russian president went on to ask the journalist if he was married, and when the journalist replied that he was, Putin joked that the scribe wanted him to "feel like he does."
Putin was earlier married to Lyudmila Putina and announced the divorce in 2013. Since then, several speculations have been made on his relationships and it was once said that he was seeing Alina Kabaeva, a former Olympic gymnast. However, the president had categorically refuted these reports.
Putin and his former wife have two children Katerina and Maria, but the president has kept them away from the limelight as well, until now. On December 6, a woman reportedly appeared on Russian state television channel Rossiya 1 and is thought to be Katerina Tikhonova, the younger daughter of Putin. Tikhonova spoke about improvement of technologies that control electrical impulses in the brain, reported the New York Times.
When Putin was earlier asked if Tikhonova was his daughter, he neither admitted nor denied the information, only saying that his daughters were "involved in science and education," and "live normal, everyday lives." He had also added that they lived in Moscow and that he did not want his grandchildren to "grow up like some royal princes."
"The minute I give their names and ages, they would be identified immediately and would never be left in peace, and this would be quite simply detrimental to their development," he had explained, during a televised show, reported Bustle.