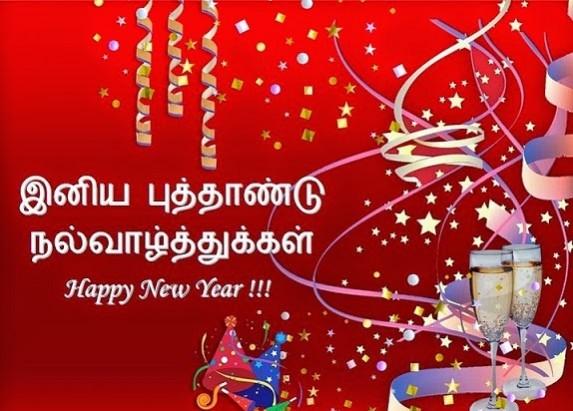 Puthandu or Puthuvarsham is the first day of the Tamil New Year as per the traditional calendar. This year, it is falling on April 14. The day is observed as per the solar cycle of the lunisolar Hindu calendar. It is the first day of the Tamil month Chithirai.
Celebration
A tray consisting of vegetables, fruits, betel leaves, gold ornaments and a mirror is placed in the pooja room and one would view his face in the mirror once he wakes up in the morning before engaging in other activities. Reading the Panchangam or the almanac is the long-followed tradition among those who celebrate the day.
Tamils make it special by wearing new clothes, preparing sweets and visiting temples. They start the day by praying that the new year brings them an abundance of happiness, peace, and success to their lives.
As per the beliefs, Lord Brahma started the process of creating the universe on this auspicious day.
On the occasion of Tamil New Year, we have curated some wishes and messages to share with your friends, families, and well-wishers.
May the divine power gives you enough strength to tolerating highs and lows of life with calmness. Puthandu Vazthukal!
It rings to announce endings and beginnings. And it rings because there are fresh promise and wonder in the skies. Happy Puthandu.
As the year comes to an end, don't look back at yesterday's disappointment. Look ahead to God's promises yet to unfold. Happy Puthandu.
May the coming year be filled with many blessings and your life be as bright as ever. Happy Puthandu
May the lights triumph over darkness. Puthuvarsham
I wish to spread the joy and greetings of the Tamil New Year with the glowing lights. Wishing you a very Happy New Year.
Let's gather around and celebrate the dawn of the new year to be filled with joyful moments, good health and surprises. Happy New Year.
Here is another Puthandu. It's time to open a new chapter in your life. May this New Year brings new ideas and hopes to make your life better.
Wishing you a bright, blissful, delightful, energetic, healthy, great, prosperous and extremely happy Puthandu.
May Murugan bring peace to your home and heart, now and always.
Let's welcome Puthandu with new hope at heart and with great enthusiasm, anticipation and eagerness.
Let this Tamil New Year remove your worries and errors and fill the days with happiness unlimited.
May this New Year bring many opportunities your way, to explore every joy of life and may your resolutions for the days ahead stay firm, turning all your dreams into reality and all your efforts into great achievements.