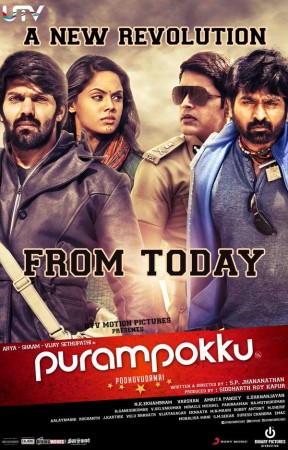 IBTIMES India Rating: IBTIMES India Rating: 2.5
"Purampokku Engira Podhuvudamai" directed by SP Jananathan was released on 15 May and like his previous movies, the director has themed his latest film on a social issue. The movie is nowhere close to his kind of films that people are used to.
The story of "Purampokku Engira Podhuvudamai" deals with communism and how land belongs the masses, not capitalists who currently rule developing nations, like India. The movie losses its balance midway and ends up as a three-hour long cinematic drama.
"Purampokku Engira Podhuvudamai" deals with three major characters – Balu (Arya), Macaulay (Shaam) and Yamalingaa (Vijay Sethupathi). The story begins when Balu is convicted for insurgency activities and the court pronounces death sentence. From Thihar jail, he is transferred to a Chennai jail, for the remaining days of his life. Macaulay, an extremely vigilant officer, keeps a strict watch on him to ensure that Balu does not escape.
Macaulay is also given the responsibility of finding a hangman to execute Balu with utmost secrecy, and that is when comes Yamalingaa, whose father was a hangman. Meanwhile, associates of Balu, headed by Kuyili (Karthika Nair) try to facilitate Balu's escape.
Does Balu succeed? Does Yamalingaa's life change since the day he is told that he will be the hangman to execute Balu? The rest of the movie revolves about answers to these questions.
The story of the movie begins slowly and gains momentum towards the end. Director SP Jananathan has a good story to tell, but the length of the screenplay and predictability are a letdown.
Shaam as a police officer stands out among all the leading characters, with the intensity he portrays in his role.
As for Vijay Sethupathi, this is definitely not his best. Arya has a role which is versatile and the actor has managed to pull off a decent performance. Karthika Nair and supporting cast have also put up noteworthy performances.
Coming to the technicalities, this is probably the area where "Purampokku Engira Podhuvudamai" lags behind. The music and the background score are of little use to make the movie interesting.
Overall, "Purampokku Engira Podhuvudamai" is not impressive.